Prince William Sound
From Academic Kids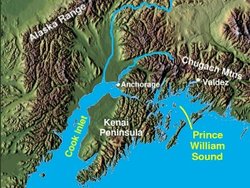 Prince William Sound is a sound of the Gulf of Alaska on the south coast of Alaska in the United States. It is located on the east side of the Kenai Peninsula. The port of Valdez, at the southern terminus of the Alaska Pipeline, is the major port, located at the northern end of the sound. The sound has numerous small islands within it.
Missing image
Prince_William_Sound_near_Columbia_Glacier.jpg
In 1964, a tsunami killed a number of Chugach villagers living on the shores of the Sound in Chenega, as well as destroying the town of Valdez. The tsunami was a result of the Good Friday Earthquake.
In 1989, the oil tanker Exxon Valdez ran aground on Bligh Reef after leaving Valdez, resulting in the Exxon Valdez oil spill. The spill resulted in massive damage to the environment.
See also