Pickup truck
From Academic Kids
Missing image
Pickupwlrsm.jpg
A pickup truck is a light truck with an open-top cargo area with fairly short rigid sides and an opening rear gate. They are known in Australia and New Zealand as a ute or utility (from "utility vehicle") and in Israel as a "tender". Panel vans, a kind of van, popular in Australia during the 1970s, were based on a ute chassis.
The design details of such vehicles vary significantly, and different nationalities seem to specialise in different style and size of vehicles. For instance, North American pickups come both in full-size (large, heavy vehicles with big V6 or V8 engines) and compact (smaller trucks generally equipped with inline 4 or V6 engines).
Missing image
Pickup-faroe-islands.jpg
Types of pickups
Compact pickups
The compact pickup (or simply pickup, without qualifier) is the most widely spread form of pickup truck. It is built like a mini version of a two-axle heavy truck, with a frame providing structure, a conventional cab, a leaf spring suspension on the rear wheels and a small I4, I6 or V6 engine, generally using gasoline. Examples include the Toyota Tacoma/Hi-Lux, the Ford Ranger and the Nissan Frontier. In 2005, Honda entered the small pick-up market with its Ridgeline.
In Europe, compact pickups dominate the pickup market, although they are popular mostly in rural areas. Only Japanese makes such as Toyota (Hi-Lux), Mitsubishi (L200) and Nissan (Navara) have typically built models for this segment, with few entries by European manufacturers. Opel and Ford have occasionally sold rebadged versions of Isuzu and Mazda products, but Eastern European manufacturers such as ARO, Dacia or IZH have served their home markets faithfully for decades.
North American full-size pickups
A full-size pickup is a large truck suitable for hauling heavy loads and performing other functions. Most full-size trucks can carry at least 1,000 lb (450 kg) in the rear bed, with some capable of twice that much. Most are front-engine and rear wheel drive with four wheel drive optional, and most use a live axle with leaf springs in the rear. They are commonly found with V8, V10, or Diesel engines. The largest full-size pickups feature doubled rear tires (two on each side on one axle). These are colloquially referred to as "duallys" (dool-eez), or dual-wheeled pickup trucks, and are often equipped with a fifth wheel for towing heavy trailers.
Until recently, only the "Big Three" American automakers (Ford, GM and Chrysler) built full-size pickups. Toyota introduced the T100 full-size pickup truck in 1993, but sales were poor due to high prices and a lack of a V8 engine. However, the introduction of the Toyota Tundra and Nissan Titan marked the proper entry of Japanese makers in the market. Both these trucks are assembled in North America.
As of 2004, five pick-ups are sold as full-size in North America:
Other pickups
The two Australian-built utilities currently in production are rebodied versions of large passenger cars, as were the now out of production American Ford Ranchero and Chevrolet El Camino. Consequently, they are much lower-slung and more carlike both in appearance and performance than other pickups. Volkswagen and other European manufacturers have also introduced similar designs at one time or another, but they have not been popular and the designs were typically dropped after a few years. Currently the Subaru Baja is the only car-based pickup sold in North America.
In Brazil, car based pickups, nicknames "picápinhas", are fairly popular, with manufacturers such as GM, Volkswagen, Ford and Fiat proposing their own alternatives for this segment, mostly based on subcompacts, and available only in single cab configuration. In Europe, Skoda and Fiat have, on occasion, tried to engage the public's attention to this segment.
Pickup cab styles
Pickup trucks have been produced with a number of different configurations or body styles.
Standard cab
A standard cab pickup has a single row of seats and a single set of doors, one on each side. Most pickups have a front bench seat that can be used by three people.
Extended cab
Extended or super cab pickups add an extra space behind the main seat. This is normally accessed by reclining the front bench back, but recent extended cab pickups have featured reverse-hinged doors on one or both sides for access. The original extended cab trucks used simple side-facing "jump seats" that could fold into the walls, but modern super cab trucks usually have a full bench in back.
Ford introduced the SuperCab on their 1974 F-100.
Crew cab
A true four-door pickup is a crew cab. It features seating for up to six people on two full benches and full-size front-hinged doors on both sides. Most crew cab pickups have a shorter bed or box to reduce their overall length.
Ford introduced the crew cab on their 1969 F-100, and Chevrolet followed with their 1973 C/K.
Four-door compact pickup trucks are quite popular outside North America, due to their increased passenger space and versatility in carrying non-rugged cargo. In the United States and Canada, however, four-door compact trucks have been very slow to catch on and are still quite rare. Mexican four-door compact pickups are quite popular.
Pickup bed styles
Full-size pickup trucks are generally available with several different types of beds attached. The provided lengths typically specify the distance between the inside of the front end of the bed and the closed tailgate; note that these values are approximate and different manufacturers produce beds of slightly varying length.
Most compact truck beds are approximately 50 in wide, and most full-size are between 60 in and 70 in wide.
Short bed
The short bed is by far the most popular type of pickup truck bed. Compact truck short beds are generally 6 ft long and full-size beds are generally 6.5 ft long. These beds offer significant load-hauling versatility but are not long enough to be difficult to drive or park.
Long bed
The long bed is usually a foot or two longer than the short bed and is more popular on trucks of primarily utilitarian employ (for example, commercial work trucks or farm trucks). Compact long beds are generally 7 ft long and full-size long beds are generally 8 ft long. Full-size long beds offer the advantage of carrying a standard-size 4 ft×8 ft sheet of plywood with the tailgate closed. In the US and Canada, long beds are not very popular on compact trucks because of the easy availability of full-size pickup trucks.
step-side
Most pickup truck beds have side panels positioned outside the wheel wells. Conversely, flare-side truck beds have side panels inside the wheel wells. Pickup trucks were commonly equipped with flare-side beds until the 1970s, when most manufacturers switched to a straight bed, which offer slightly more interior space than flare-side beds. Flare-side beds do have the added advantage of an completely rectangular box, although most modern trucks are available with a flare-side bed purely for styling.
Very short bed
As mentioned above, some compact four-door pickup trucks are equipped with very short beds. The Ford Explorer Sport Trac features a 4 ft bed and the Dodge Dakota Quad Cab comes with a 5 ft bed.
No bed
In some cases, commercial pickup trucks can be purchased without a bed at all; the gas tank and driveline are visible and easily accessible through the top of the frame rails until a proper bed is attached by the customer.
The cultural significance of the pickup
The pickup in American culture
Americans have a special fondness for the pickup truck, and it has developed a mythos that is similar to that of the horse in the American Old West. In the United States, pickups are deliberately marketed as symbols of male virility. They figure prominently in "tough guy" and neo-Western motion pictures, such as Hud, Urban Cowboy, and Every Which Way But Loose. They are also a fixture in American politics, as in the famous campaign speech by Fred Thompson, who explained his opponent's shortcomings by saying "He hasn't spent enough time in a pickup truck." In 2004, Democratic Senate candidate Ken Salazar campaigned with his green pickup truck; Salazar later won the election.[1] (http://www.salazarforcolorado.com/about_ken/kens_green_truck.html)
The Australian ute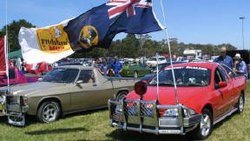 Since the modern design of the ute first rolled off the assembly line at the Ford factory in Geelong in 1934, which Henry Ford described as the 'kangaroo chaser', Australia has developed a culture around utes. This still manifests itself today, particarly in rural areas with events known as Ute musters that occur nation wide.
In Australia, two common forms of ute exist. The normal type of ute which is popular with farmers, etc is usually a Japanese or Australian built ute, such as the Holden Rodeo, Toyota Hilux, etc. These are popular in a variety of forms – two and four wheel drive, single or dual cab, integrated tray or flatbed. These kinds of vehicles are also common in New Zealand, where they are also referred to as utes. There is an extensive industry in rural areas building a huge variety of different ute backs and trays to fit standard chassis.
The other type of vehicle commonly referred to as a ute is quite different, and possibly unique to Australia – a 2-seater sporty version of typical saloon cars, featuring a ute-type integrated tray back. A typical example would be the Holden Commodore SS ute. Construction is semi-monocoque, with the front end sharing the unitary construction of the saloon car on which they are based, but featuring a more conventional chassis at the rear. The vehicle is optimised for carrying loads in rural Australia which tend to be very flat, however in other environments the vehicles has somewhat questionable value as most feature very low ground clearance, wide road tyres and so forth. Many young urban drivers often customise their utes, resulting in many not willing to scratch the paintwork on anything useful such as carrying a load.
Pickups in Thailand
As the world's second largest manufacturer of pickup trucks, aided by punitive excise taxes on passenger cars, pickup trucks have long been extremely popular in Thailand: between 1987 and 1996, 58% of all cars sold in the country were pickup trucks. [2] (http://www.grandprixgroup.com/gpi/aseanautobiz/overthai.asp) Pickups are used extensively for shipping and transport, notably the converted songthaew (lit. "two row") minibus that forms the backbone of public transportation in and between many smaller cities.
United Kingdom
In the United Kingdom, pick-ups are rarely seen and have no cultural significance. British environmentalists' objections to large cars focus instead on the more common people carriers and especially on the very popular 4x4s (SUVs in American English).
Military use
Pickup trucks have been used as troop carriers in many parts of the world, most notably in Somalia, Chad, and by the Taliban and Northern Alliance forces in Afghanistan. Pickup trucks have also been used as fighting vehicles, often equipped with a machine-gun mounted in the bed. See technical.
Miscellaneous
Since about 2001 hybrid SUV/pickups have appeared, which are similar to an SUV except that the 3rd row of seats (or enclosed cargo area) is replaced by a short open truck bed.
Whilst pickups are commonly used by tradespeople the world over, they are popular as personal transport in Australia, the United States, and Canada, where they share some of the image of the SUV and are commonly criticised on similar grounds.
Many pickup trucks have four wheel drive, aggressively-treaded tyres and high ground clearance, and thus have all-terrain capabilities similar to SUVs. SUVs developed from pickups with permanently attached cabs.
See also
External link