Pawnbroker
From Academic Kids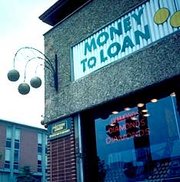 A pawnbroker is a person who offers loans to individuals who use their personal property as collateral. These items are called pledges or pawns. The word pawn is derived from the Latin patinum, meaning cloth or clothing. Typically, most people's primary assets were their clothing. The place of business of a pawnbroker is a pawnshop.
A pawnbroker evaluates the value of any possession that is offered as a pledge for a loan. The amount of the loan is a percentage of the item's value, and the pledge is kept by the pawnbroker for the agreed period of the loan. If the money is repaid at any time during this period, along with the fee, the customer receives the pawned item. If the time elapses without repayment, the pawnbroker is allowed to sell the pledged item to recoup the amount of his loan. As a result, pawnbrokers have a large number of formerly pawned objects offered for sale.
It has been noted that since pawnbrokers often buy goods from strangers with few questions, some unscrupulous pawnbrokers act as fences. Pawnbrokers have claimed that few stolen items end up in pawnshops, as (in some places in the world) pledgors are required to show government-approved identification when making a loan. It is easier, the pawnbrokers say, for a thief to dispose of their goods through an outlet such as Ebay or flea markets where items being sold are not subject to government regulations regarding the acquisition and sale of personal property.
Today the use of pawnbrokers is a fact of life among many segments of society. In the past, important and wealthy clients obtained funds in this manner. The voyage of Columbus to the Americas was financed by Queen Isabella pawning the crown jewels.
In spite of early church prohibitions against usury, there is some evidence that the Franciscans were permitted to begin the practice as an aid to the poor.
Missing image
Pawnbroker-traditional-symbol.png
The pawnbroker's symbol is three balls suspended from a bar. The three ball symbol is attributed to the Medici Family of Florence, Italy, or to the House of Lombard, a banking family in medieval London, England. According to legend, a Medici employed by Charles the Great slew a giant using three bags of rocks. The three ball symbol became the family crest. Since the Medicis were so successful in the financial, banking, and moneylending industries, other families also adopted the symbol. Throughout the middle ages, coats of arms bore three balls, orbs, plates, discs, coins, and more as symbols of monetary success. Pawnbrokers (and their detractors) joke that the three balls mean "Two to one, you won't get your stuff back".
Saint Nicholas is the patron saint of pawnbrokers.
The famous nursery rhyme "Pop Goes the Weasel" contains rhymes that are about pawning items. The word "pop" means to pawn, and a "weasel" is a tool used by tailors in making clothing.
External link