Paprika
From Academic Kids
Paprika is a sweet-to-mildly hot cultivar of the chile pepper (Capsicum annuum, of the family Solanaceae). Paprika peppers are elongated or round fruit, bright red, yellow, or green in color.
Paprika plants tolerate nearly every climate and are grown all over the world. A fairly warm climate is necessary for a strong aroma.
Hungary is probably the world's leading producer of paprika. In fact, the Hungarian word "paprika" refers not only to this type of pepper, but to paprika in its different forms (see Hungarian paprika later).
In the United States, California and Texas are the main producers.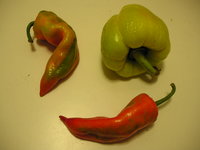 Paprika is often eaten as a ground powder but sometimes as a fresh vegetable. It is commonly used in Hungarian, Balkan, Middle Eastern, and Central Asian cuisines. The round type can be stuffed with cottage cheese or salad to make a portable lunch.
Some specialty varieties of paprika are hot but the generally available ground preparation is quite mild.
Hungarian paprika
Paprika is the name of the vegetable grown mainly in the South of Hungary for eating fresh, for drying and pulverizing for use as spice, and for pickling.
Paprika is grown in Hungary because of the high vitamin C content of the fruits (150-250 mg/100 g). They are grown in the fields as well as in greenhouses, with less vitamin C content in the latter case. The paprika with pointed tips or cherry shaped minis have higher vitamin C content and are usually very hot.
The carotene content of the fruit is 10 mg/100g, in addition to high vitamin B1 and B2 traces. The spicy, hot species have a capsaicin content over 1000 mg in the fruit, while others display 250-500 mg.
In Hungary, paprika is grown in the fields of about 4000 hectares each year with an output of about 60000 tons. In addition a total of about 2300 hectares are used for forced growing with an output of about 180000 tons.
Considerable damage was done to the image and goodwill of the Hungarian paprika when some local manufacturers and packaging companies imported paprika infected with aflatoxin.
External links
Missing image
Paprikahungarian.jpg
Missing image
Pickled&stuffedpaprika.jpg
Missing image
Driedpaprika.jpg
Missing image
Paprikapowder@paste.jpg
Template:Cookbookde:Paprika eo:Papriko es:Pimiento fr:Paprika he:פפריקה ja:パプリカ nl:Paprika no:Paprika sv:Paprika