Oshima Subprefecture
From Academic Kids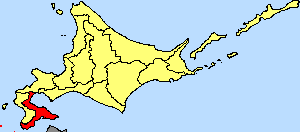 Oshima (渡島) is a subprefecture of Hokkaido Prefecture, Japan. As of 2004 it had a population of 456,621 and an area of 3,715.38 km².
Geography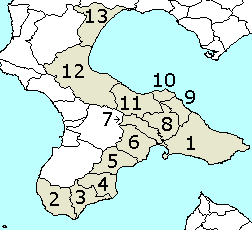 Cities
Districts
Mergers
On April 1, 2005 the town of Sawara from Kayabe District merged into the neighboring town of Mori.
On December 1, 2004 the town of Minamikayabe from Kayabe District and the towns of Esan and Toi and village of Todohokke from Kameda District merged in an expansion of Hakodate.
External link

Template:Prefecture navobox !align=center|Subprefectures |- || Abashiri | Hidaka | Hiyama | Iburi | Ishikari | Kamikawa | Kushiro | Nemuro | Oshima | Rumoi | Shiribeshi | Sorachi | Soya | Tokachi |- !align=center|Cities |- ||Abashiri | Akabira | Asahikawa | Ashibetsu | Bibai | Chitose | Date | Ebetsu | Eniwa | Fukagawa | Furano | Hakodate | Ishikari | Iwamizawa | Kitahiroshima | Kitami | Kushiro | Mikasa | Monbetsu | Muroran | Nayoro | Nemuro | Noboribetsu | Obihiro | Otaru | Rumoi | Sapporo | Shibetsu | Sunagawa | Takikawa | Tomakomai | Utashinai | Wakkanai | Yubari |- | align="right" | edit (https://directory.academickids.com:443/encyclopedia/index.php?title=Template:Hokkaido&action=edit) |}