Nippon Cargo Airlines
From Academic Kids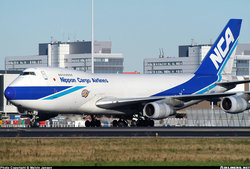 Nippon Cargo Airlines (NCA, 日本貨物航空 Nippon Kamotsu Kôkû) is a cargo subsidiary of All Nippon Airways. Its livery colors and lettering are similar to those of their associate company.
Code Data
History
Nippon Cargo Airlines started flights on September 21 of 1978, from Tokyo. Overtime, their network has grown to include many cities on three continents.
Fleet
The Nippon Cargo Airlines fleets consists of 10 Boeing 747-200 aircraft and 1 Boeing 747SR aircraft (as of March 2005), five of which were formerly operated as passenger airliners by All Nippon Airways. Two Boeing 747-400 aircraft are on order.
External Links