Mures
From Academic Kids
Note: if you are looking for Mures River, click the link.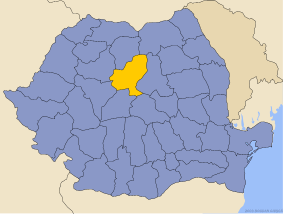 Mureş (Hungarian: Maros) is a Romanian county (Judeţ) in the Transylvania region, with the capital city at Târgu Mureş, known in Hungarian as Marosvásárhely (population: 165,835). Its common abbreviation is MS.
Demographics
In 2000, it had a population of 602,426 and the population density was 90/km². According to the latest national census (2002), the major ethnic groups in the county are:
Romanians (53,3% or 309,375)
Hungarians (39,3% or 228,275)
Gypsies (6,95% or 40,425).
Geography
This county has a total area of 6,714 km².
List of cities in Mureş county
de:Mureş (Bezirk) eo:Mureş fr:Mureş (judet) pl:Okręg Mureş ro:Judeţul Mureş