Midnight Oil
Midnight Oil were an Australian rock band known for their driving hard rock sound, superb live performances and their overt left-wing political activism. Peter Garrett, the former lead singer, is an active campaigner for social and environmental issues (currently a member of the Australian Parliament) and this is reflected in many of the band's songs.
"Burning the midnight oil" means working late into the night, by means of an oil lamp. "Smells of the midnight oil" characterizes poetry or prose studded with laboured literary allusions and arcane vocabulary.
History
Missing image
Ac.midnightoil.jpg
The Oils, as they are known to their fans, began as a progressive rock band called the Farm in the early 1970s, then under the Oils name became an aggressive, hard-rock group associated with the surfer community near Sydney. One of their early fan bases was at the Sydney northern beaches pub The Royal Antler at Narrabeen.
Although consistently championed by Sydney alternative rock station Double Jay and its FM band successor Triple J, Midnight Oil, like many independent bands of the period, were almost totally ignored by Australia's mainstream commercial radio stations.
The Oils developed a strong "street cred" and a reputation for making no compromises with the music industry. In support of this, it was often stated that they were one of the only Australian bands never to have appeared on the all-powerful ABC TV pop show Countdown. While this was strictly true, the fact is that they had indeed been scheduled to appear in the early Eighties, but they were "bumped" from the show. According to producer Michael Shrimpton, on the day of the taping, the band had arrived late for rehearsal but (due to the show's very tight schedule and budget) there was a strict policy that latecomers were not allowed to appear, so they were told they could not perform that day. In retaliation, the group declared that they would never appear on the show, a promise they faithfully kept.
Manager Gary Morris also developed a fearsome reputation as one of the toughest managers in the business and he became equally notorious for banning any critics or journalists (who were usually given free admission to concerts) if they wrote unfavourable reviews. One famous case in the mid-80s involved writer and critic Bruce Elder, who in a newspaper review described the band's music as "narrow and xenophobic"; in retaliation, Morris banned him from Oils shows permanently.
Nevertheless, they built up an intensely dedicated fan base through constant touring and their blistering live performances, featuring the scorching twin-guitar attack of Moginie and Rotsey, the powerhouse drumming and soaring vocals of drummer Rob Hirst and the manic, whirling-dervish presence of their towering, shaven-headed lead singer Peter Garrett, who quickly earned a reputation as one of the most charismatic and outspoken musicians on the Australian music scene.
Their first two albums, 'Midnight Oil' and 'Head Injuries' are now regarded as classics of Australian indie rock, mixing solid guitar rock with progressive flourishes; both were released independently through the M7 label (a subsidiary of the Seven TV Network) and both were produced by Triple J live concert sound producer Keith Walker.
Further interest was generated by the excellent Bird Noises EP, produced by former Supercharge (band) member Lesek Karski, which featured the beautiful surf-instrumental 'Wedding Cake Island' (named after a rock outcrop in the ocean off Sydney's Coogee Beach). Legend has it that this track originally featured a vocal that was removed prior to release, supposedly because of its forthright lyrical content.
The third LP Place Without A Postcard (1981) was recorded with legendary English producer Glyn Johns but it was apparently an uneasy match and the band were not totally happy with the outcome, although it did yield some superb tracks.
Their major Australian breakthrough and their first international recognition came in 1982, after several albums with the release of 10, 9, 8, 7, 6, 5, 4, 3, 2, 1, which included the singles "Power and the Passion" and "Read About It" and their classic denunciations of American imperialism, "US Forces" and "Short Memory". Their ascendance was signalled by a series of landmark concerts at Sydney's Capitol Theatre, one of which was filmed and recorded, and which has recently been released on DVD.
10, 9, 8 ... was produced by Englishman Nick Launay, who had previously worked with The Jam, XTC, Peter Gabriel, PiL, Gang of Four, The Birthday Party, and Killing Joke, and who had engineered for leading producers including John Leckie, Steve Lillywhite, Hugh Padgham and Tony Visconti. It was one of four classic albums Launay produced in Australia that year, the others being The Church LP Seance and The Models commercial breakthrough The Pleasure of Your Company and INXS' "The Swing".
It was followed by the equally excellent Red Sails In The Sunset (1984) on which the band continued to expand their sound and explore their preoccupations with politics, consumerism, militarism, the nuclear threat and environmental issues. The album cover featured a startling photomontage of Sydney - both city and harbour - cratered and devastated after a hypothetical nuclear attack.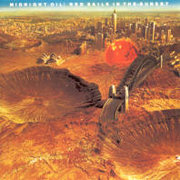 In 1985, arguably at their peak, Midnight Oil performed another landmark outdoor concert on Goat Island in Sydney Harbour, in order to celebrate the tenth anniversary of Triple J, before a select audience of fans who had won tickets in a radio competition. This concert was also filmed and recorded by the ABC and was simulcast on ABC-TV and Triple J. It has recently been remastered and released on DVD.
In 1984, Garrett ran for political office in Australia under the Nuclear Disarmament Party banner, and lost. Between 1988 and 1992, the band's Diesel and Dust and Blue Sky Mining discs became known worldwide, as did their political activism for causes ranging from nuclear disarmament to aboriginal rights and environmental issues, and they began to tour overseas for the first time. Their subsequent albums sold less well outside Australia, but the Oils maintained a following throughout the 1990s and into the new century.
The band famously performed during the closing ceremony of the 2000 Sydney Olympic Games. After first appearing on stage in boiler suits, the band and their support players then partially disrobed, revealing the word "SORRY" conspicuously printed on their clothes.
This was a political statement offering apologies to the Aboriginal people for their suffering during more than 200 years of white settlement. The SORRY shirts were also specifically aimed at conservative Prime Minister John Howard, who was in the audience. He had triggered a storm of controversy that year with his dogged refusal to embrace reconciliation and apologise to Aboriginal Australians and members of the stolen generation, a refusal that many Australians believed was cynically motivated by conservative fears that an apology might be construed as an admission of liablity and could trigger a rush of land rights and financial compensation claims by Aboriginal people.
The Midnight Oil lineup remained quite stable over the band's long career: Garrett as lead singer (and, early on, synthesizer), Jim Moginie on guitar and keyboards, Martin Rotsey on guitar, and Rob Hirst on drums. Andrew "Bear" James, the first bass player, left in 1979, replaced by Peter Gifford, who left in 1989 to be replaced by New Zealander Bones Hillman, (ex Swingers), who remained with the group until its dissolution in 2002. Gary Morris was the band's manager and effective sixth member (often credited with the simple title "Business" on albums) throughout.
Dissolution and Reunion
Missing image
Oils_Alive_Again_by_rakka_of_oz.jpg
Garrett decided to quit the band on December 2, 2002 to focus on his political career. He won the safe Labor seat of Kingsford Smith at the 2004 federal election. The other members of the band resolved to continue working together, but not under the Midnight Oil name, bringing the band's career to a close.
The members of the band, including Garrett, reunited to perform at the WaveAid concert on January 29, 2005 to raise funds for the victims of the recent tsunami. The concert, took place at the Sydney Cricket Ground, also included performances by Powderfinger, silverchair, Nick Cave, the John Butler Trio and others. The only other show the group has performed since breaking up was a warm up gig the night before WaveAid at the Manly Leagues Club.
Discography
External links