Mica
From Academic Kids
Missing image
Mica-in-rock-from-alstead.jpg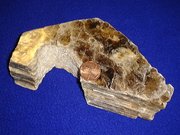 Missing image
Mica-from-alstead.jpg
The
mica
group of
minerals
includes several closely related materials having highly perfect basal cleavage. All are
monoclinic
with a tendency towards pseudo-hexagonal
crystals
and are similar in chemical composition. The highly perfect cleavage, which is the most prominent characteristic of mica, is explained by the hexagonal sheet-like arrangement of its
atoms
.
The word "mica" is thought to be derived from the Latin word micare, meaning to shine, in reference to the brilliant appearance of this mineral (especially when in small scales).
Mica is found abundantly throughout Asia, Africa, as well as North and South America. Until the 19th century, mica was quite rare and expensive as a result of the limited supply in Europe. However, its price dramatically dropped when large reserves were found and mined in Africa and South America after the early 19th century.
Mica has a high dielectric strength and excellent chemical stability, making it a favored material for manufacturing capacitors for radio frequency applications. It has also been used as an insulator in high voltage electrical equipment.
Specific varieties of mica include:
See also