Medal
From Academic Kids
A Medal can mean three things:
a wearable medal awarded by a government for services to a country (such as Armed force service); strictly speaking this only refers to a medal of coin-like appearance, but informally the word also refers to an Order (decoration);
a table medal awarded by an organization for services in a specific field (such as the Nobel Prize or the Carnagie Hero Medal);
a medal awarded to winners and runners-up of sporting (or similar) competitions.
Order or Decoration or Medal
Medal is a broad term that can indicate either an Order, Decoration, or Medal.
An
order
is perhaps the most elaborate form of medals, typically awarded for distinguished services to a nation or to humanity. An order differs from other forms of medal in that it often implies a membership of an organization. This is because orders were originally fraternities of knighthood (see
Order (decoration)
; even today most orders have several classes, known as knights, commanders, officers, members, et cetera. These "medals" (or insignia) of the orders are usually very elaborate, and can be worn in different ways depending on class.

For a full treatment on orders, go to Order (decoration).
Missing image
Victoria_Cross.jpg

A decoration is a less elaborate form of medal, typically shaped like a cross or a star. It is usually awarded for one-off actions of some type, and is usually worn with a ribbon on the left chest. The Victoria Cross is the highest British decoration for bravery in war. This decoration is worn on the left side suspended by a ribbon.
A medal is usually the most junior of all the awards, usually shaped like a circle or otherwise like a coin. It is usually awarded for participation in a particular organization, but it may also be for one-off actions of some kind. In the latter case, the boundary between a medal and decoration is blurred. A medal is usually worn with a ribbon on the left chest.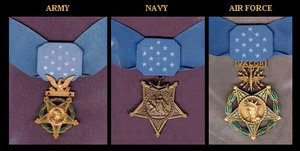 The Medal of Honor of the United States armed forces is a bravery award worn arround the neck, and may therefore be more rightly classified as a decoration. The Awards and decorations of the United States military list this country's medals.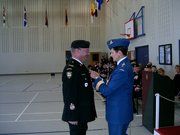 Medals, as well as orders and decorations, are usually presented in a formal ceremony. These awards are normally worn on formal occasions only; on everyday occasions, only the ribbons of such awards are worn.
Table medal
Generally circular, table medals are issued for artistic, commemeration or souvenir purposes, not for commerce. Tokens and Table Medals are part of the Exonumia subcategory of Numismatics, while Orders, Decorations and Medals are considered Militaria (military related). In the U.S. Military, modern medals are often referred to as challenge coins.
The Nobel Foundation, the organization awarding the prestigious Nobel Prize, presents each winner "an assignment for the amount of the prize, a diploma, and a gold medal..." This example of a medal would be displayed, on a table or in a cabinet, rather than worn by the winner.
The Carnagie Hero Foundation is the issuer of a bravery medal, most commonly issued in the US and Canada but also in the UK. This large bronze table medal features Andrew Carnegie's likeness on the obverse and the name of awardee and citation engraved on reverse. It is usually issued for lifesaving incidents.
Also related are plaques and plaquettes. While usually metal, table medals have been issued in wood, plastic, fibre and other compositions. The US Government awards gold medals on important occasions, with bronze copies available for public sale.
See also
External links