Thomas Babington Macaulay, 1st Baron Macaulay
From Academic Kids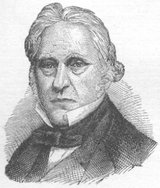 Thomas Babington (or Babbington) Macaulay, 1st Baron Macaulay (October 25 1800 - December 28 1859) was a nineteenth century British poet, historian and Whig politician. He wrote extensively as an essayist and reviewer, and on British history. His middle name is spelt "Babington" in History of England and "Babbington" in the Lays of Ancient Rome.
Macaulay as a politician
The son of Zachary Macaulay, a British colonial governor and abolitionist, Macaulay was born in Leicestershire and educated at Trinity College, Cambridge. Whilst at Cambridge he wrote much poetry and won several prizes. In 1825 he published a prominent essay on Milton in the Edinburgh Review.
In 1830 he became a Member of Parliament for the pocket borough of Calne. After the Great Reform Act was passed, he became MP for Leeds. Macaulay was appointed Secretary to the Board of Control, which required him to visit India. Macaulay was a convinced colonialist and a believer in European, especially British, superiority over all things Oriental. Serving on the Supreme Council of India between 1834 and 1838 Macaulay was instrumental in creating the foundations of bilingual colonial India, by convincing the council and parliament to close schools and colleges teaching in Sanskrit or Arabic and instead to teach English to "natives" and provide education in English only.
He is credited with the term Macaulay's Children, which is used to refer to people born of Indian ancestry who adopt Westen Culture as a lifestyle. The term is usually used in a derogatory fashion, and the connotation is one of disloyalty to one's country and one's heritage. The passage to which the term refers is from his Minute on Indian Education, delivered in 1835. It reads, "We must at present do our best to form a class who may be ... Indian in blood and colour, but English in taste, in opinions, in morals and in intellect. To that class we may leave it to refine the vernacular dialects of the country ...,"
Later, in 1839, he became Secretary at War. During this time he composed the Lays of Ancient Rome.
During the 1840s he began work on his most famous history, the History of England from the accession of James II, publishing the first two volumes in 1848. The following year he was elected Lord Rector of the University of Glasgow and he also received the freedom of the city. The next two volumes appeared in 1855.
He was raised to the Peerage in 1857 as Baron Macaulay, of Rothley in the County of Leicester, but seldom attended the House of Lords.
Macaulay's great-nephew was the historian G. M. Trevelyan.