Lock, Stock and Two Smoking Barrels
From Academic Kids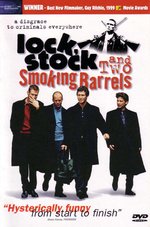 Lock, Stock and Two Smoking Barrels (1998) is a British film directed and written by Guy Ritchie.
The story is a caper comedy involving a cocky young card shark who loses £500,000 to a powerful crimelord in a rigged game of three card brag. In order to pay off his debts, he and his friends decide to rob a small-time gang who happen to be operating out of the flat next door, and whom they have overheard plotting to rob a drug dealer.
The film garnered Guy Ritchie international acclaim, and introduced actors Jason Statham and Vinnie Jones, a former footballer, to worldwide audiences.
The movie contains non-conventional cinematography with scenes often having shaky camera movement which adds to the dynamic nature of the film. The soundtrack of the movie is very vivid and well-synchronized with the goings-on on the screen.
The movie builds on the satire genre and is acknowledged for having captured the essence of the British urban society of the late 90s.
In 2004 the magazine Total Film named Lock, Stock and Two Smoking Barrels the 38th greatest British film of all time.
External links

Template:Film-stubfr:Arnaques, crimes et botaniquede:Bube, Dame, König, grAs