Biological life cycle
From Academic Kids
A life cycle includes the major sexual stages of a species, especially in regard to its ploidy. There are three types of cycles: zygotic meiosis, gametic meiosis, and sporic meiosis. All sexual cycles feature the alternating haploid and diploid phases (n and 2n). The haploid organism becomes diploid through fertilizations of gametes, resulting in a zygote (see Reproduction). To return to the haploid stage, meiosis occurs (see Cell division).
The cycles differ in the product of meiosis, and if mitosis (growth) occurs. Zygotic and gametic meiosis have one mitotic stage and form: during the n phase in zygotic meiosis and during the 2n phase in gametic meiosis. Therefore, zygotic and gametic meiosis are collectively term haplobiontic (single meiosis per phase). Sporic meiosis, on the other hand, has two meiosis events (diplobiontic): one in each phase.
Zygotic meiosis
After karyogamy in zygotic meiosis, the zygote immediately undergoes meiosis, ending its diploid phase and producing several haploid cells. These cells divide mitotically to form either larger, multicellular individuals, or more haploid cells. Two opposite types of gametes (e.g., male and female) from these individuals or cells fuse to become a zygote.
In the whole cycle, zygotes are the only diploid cell; mitosis occurs only in the haploid phase.
The individuals or cells as a result of mitosis are haplonts, hence this life cycle is also called haplontic life cycle. Haplonts are:
Gametic meiosis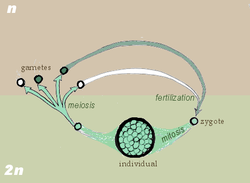 In gametic meiosis, instead of immediately dividing meiotically to produce haploid cells, the zygote divides mitotically to produce a multicellular diploid individual or a group of more diploid cells. Cells from the diploid individuals then undergo meiosis to produce gametes. The haploid gametes do not divide mitotically, however. Without growing larger, the gametes would fuse and produce the diploid zygote with gametes of the opposite type.
In the whole cycle, gametes are the only haploid cells; mitosis occurs only in the diploid phase.
The diploid multicellular individual is a diplont, hence a gametic meiosis is also called a diplontic life cycle. Diplonts are:
Sporic meiosis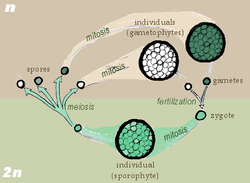 Main article: Alternation of generations
In sporic meiosis, also known as intermediary meiosis, mitoses occur in both the diploid and haploid phases. It exhibits alternation of generations, which features of spore-producing multicellular sporophytes and gamete-producing multicellular gametophytes. Diagramatically, sporic meiosis looks like the complex halves of gametic meiosis and zygotic meiosis are merged into one.
This type of cycle is diplobiontic (also known as diplohaplontic, haplodiplontic, or dibiontic).
Sporic meiosis occurs in plants and many algae. Having multicellular individuals in both phases means that for some seaweeds, it is difficult to determine if a macroscopic specimen is gametophytic or sporophytic unless observed under a microscope, this is called isogamy. However, not all species with sporic meiosis have both large gametophyte and sporophyte generations. The trend in higher plants is having smaller gametophytes that are more dependent (parasitic) on soporophytes, this is called heterogamy.