Lepidoptera
The Lepidoptera is the second largest order of insects comprising butterflies, skippers, and moths. Lepidopterans (members of this order) go through a four-stage life cycle of egg–larva/caterpillar–pupa/chrysalis–imago/adult. Adults have two pairs of membranous wings covered with scales, and mouth parts adapted for sucking.
The order comprises more than 160,000 species, second only to the Coleoptera (the beetles). The name is from Greek "scaly-wing" (lepido-pteron).
See also metamorphosis (biology) and difference between a butterfly and a moth.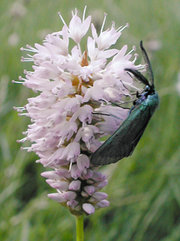 Families of Lepidoptera
There are thought to be about 130 families in this order, but opinions frequently change among lepidoperists as to which these are. The treatment here is that adopted for the Natural History Museum database [1] (http://www.nhm.ac.uk/entomology/butmoth/). Generally, this uses the families included in the series of reviews published as Kristensen (1999), but for the superfamily Gelechoidea, it retains the system of Nye & Fletcher (1991) rather than the contentious treatment of Hodges in Kristensen. Also, the Riodinidae are retained as a family in anticipation of a publication by Lamas et al which will reinstate this as a full family. (In Kristensen they are treated as a subfamily of the Lycaenidae.) The list also shows where other authors in the fairly recent past have treated groups as belonging in other families. The actual number of families listed here is 126.
Lepidoptera is divided into several suborders, the largest being Ditrysia. Several other classifications of Lepidoptera families are commonly used. Butterflies families are collectively known as Rhopalocera (club-horned), while moth families are collectively known as Heterocera (varied-horned). This, however, is a popular, not scientific division (see: Difference between a butterfly and a moth). Lepidoperists also group families by size of species members: microlepidoptera for small species, and macrolepidoptera for large species.
References
Kristensen, N.P. (Ed.). 1999. Lepidoptera, Moths and Butterflies. Volume 1: Evolution, Systematics, and Biogeography. Handbuch der Zoologie. Eine Naturgeschichte der Stämme des Tierreiches / Handbook of Zoology. A Natural History of the phyla of the Animal Kingdom. Band / Volume IV Arthropoda: Insecta Teilband / Part 35: 491 pp. Walter de Gruyter, Berlin, New York.
Nye, I.W.B. & Fletcher, D.S. 1991. Generic Names of Moths of the World. Volume 6: xxix + 368 pp. Trustees of the British Museum (Natural History), London.
Moths and Butterflies of Europe and North Africa (http://www.leps.it/)
British Butterflies and Moths (http://www.ukmoths.force9.co.uk/)
Photography of European Butterflies and Moths (http://home.hccnet.nl/bernard.fransen/0testsite/0testsite/)
Butterflies and Moths in the Netherlands (http://www.leps.nl/)