LeVar Burton
From Academic Kids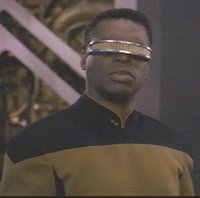 Levardis Robert Martyn Burton Jr. (born February 16, 1957 in Landstuhl, Germany), known as LeVar Burton, is an African American actor, director, and producer who first came to prominence playing Kunta Kinte in the 1977 award winning television miniseries Roots, based on the novel by Alex Haley.
Burton is a graduate of University of Southern California's School of Theatre.
He later played the role of Lieutenant Commander Geordi La Forge in the Star Trek: The Next Generation television series and the series' movies. He has directed numerous episodes of the series, as well as episodes of Star Trek: Deep Space Nine, Star Trek: Voyager and Star Trek: Enterprise. He is also the host of the long-running children's television show Reading Rainbow (1983- Current) on PBS, which extols the virtues of literacy. He also played the voice of a character named Kwame in the cartoon series Captain Planet and the Planeteers (1990-1993) and The New Adventures of Captain Planet (1993-1996). At one point in his career before Star Trek he appeared on a music video called "Word Up!" by R'n'B band Cameo.
Burton got his start in television from 1976-1979, as the host of Rebop. In the 2001 film Ali, he played Martin Luther King, Jr..
He and his wife have worked to raise awareness on infertility.
He currently resides in California.
Books
Fiction
Aftermath, 2001, ISBN: 0446679607
External links
Template:US-actor-stub Template:ST-stubde:LeVar Burton nl:LeVar Burton