LL Cool J
From Academic Kids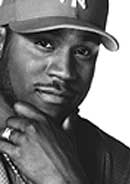 James Todd Smith (born January 14, 1968) is an American hip hop artist better known by his stage name, LL Cool J (an acronym for "Ladies Love Cool James"). He is best known for romantic ballads like "I Need Love" as well as hardcore rap like "I Can't Live Without My Radio". He has also appeared in several films.
LL Cool J was born and grew up in St. Albans, New York City. He signed to Def Jam in 1984 and released the underground hit "I Need a Beat" (see 1984 in music). The song was the first hit record for Def Jam, and its success persuaded him to drop out of school to record Radio (1985 in music). The album was released to critical acclaim, as LL Cool J was one of the first rappers to use conventional song structure to make pop-oriented rap. "I Can't Live Without My Radio" and "Rock the Bells" were successful and helped the album go platinum. In 1987, he released Bigger and Deffer (see 1987 in music). The ballad "I Need Love" was one of the first pop-rap songs to be a hit. Critics scoffed at his new direction, though, and by the release of Walking with a Panther (1989 in music), he was booed offstage at the Apollo Theater.
Eager to regain his hardcore audience, he released Mama Said Knock You Out, easily the hardest record he had made, which re-established his reputation in the hip hop community. It spawned three singles, "The Boomin' System," "Around the Way Girl," and especially the hard-hitting title track, which got special notice after LL Cool J's dynamic performance of it during an episode of MTV Unplugged. After acting in The Hard Way and Toys, he released 14 Shots to the Dome to muted sales and mixed reviews. He starred in In the House, an NBC sitcom, before releasing Mr. Smith (1995 in music), a double platinum hit. Its singles, "Doin' It" and "Loungin", were two of the biggest songs in 1996 and both songs' music videos were hugely successful on MTV. Another of the album's singles, "Hey Lover", featured Boyz II Men singing the chorus and eventually became one the first rap music videos to air on American VH1. In 1996, LL also helped to launch a clothing line named FUBU; the name is an acronym for "For Us, By Us", meaning that the clothes were made for and marketed to black people by a black person.
His next album was 10 from 2002 (2002 in music). It included the popular singles "Paradise" (featuring Amerie), "Luv U Better", and the massive 2003 Jennifer Lopez duet, "All I Have".
His latest album, Definition, came out in 2004. His biggest hit so far from the album is the song "Headsprung". Other hits include "Hush".
The song Nitro interpolated some parts from (not just) Knee Deep by funk musician George Clinton.
The song I'm That Type of Guy interpolated some movie quotes from Wizard of Oz.
Discography
Albums
Hit singles
from "Bigger and Deffer"

1987 "I Need Love" #14 US, #8 UK

from "Walkin with a Panther"

1988 "Going Back to Cali" #31 US, #37 UK (double-A-side with Jack the Ripper in the UK)
1989 "I'm That Type of Guy" #15 US

from "Mama Said Knock You Out"

1990 "Around the Way Girl" #9 US, #36 UK (1991 re-issue)
1991 "Mama Said Knock You Out" #17 US

from "14 Shots to the Dome"

1993 "How I'm Comin'" #37 UK

from "Mr. Smith"

1995 "Hey Lover" (feat. Boyz II Men) #3 US, #17 UK (1996 release in the UK)
1996 "Doin' It" (guest vocals by LeShaun) #9 US, #15 UK
1996 "Loungin'" #3 US, #7 UK

from "Beavis and Butt-Head Do America" soundtrack

1997 "Ain't Nobody" #1 UK

from "Space Jam" soundtrack

1997 "Hit 'Em High (The Monstars' Anthem)" (B Real / Busta Rhymes / Coolio / LL Cool J / Method Man) #8 UK

from "Phenomenon"

1997 "Phenomenon" #9 UK
1998 "Father" #18 US, #10 UK

from "Bulworth" soundtrack

1998 "Zoom" (Dr. Dre & LL Cool J) #15 UK

from "10"

2002 "Luv U Better" #4 US, #7 UK
2003 "Paradise" (feat. Amerie) #36 US, #18 UK
2003 "All I Have" (Jennifer Lopez feat. LL Cool J) #1 US, #2 UK

from "The DEFinition"

2004 "Headsprung" #16 US, #25 UK
2005 "Hush" (feat. 7 Aurelius) #26 US, #3 UK
Partial filmography
External links