Kriegsmarine
From Academic Kids

Missing image
Nazi_war_flag.png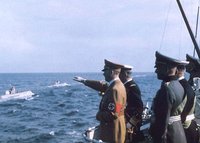 The Kriegsmarine (or "War Navy") was the name of the German Navy between 1935 and 1945, during the Nazi regime, superseding the Reichsmarine. The main war vessels available to the Kriegsmarine were U-boats, three pocket battleships, two battleships (Bismarck and Tirpitz), two battlecruisers (Scharnhorst and Gneisenau), three heavy cruisers, six light cruisers, and various smaller ships such as destroyers, torpedo boats, minelayers, minesweepers, gunboats and E-boats. Two old WW-I battleships were used mainly as training ships. Construction of an aircraft carrier, the Graf Zeppelin, had been started in 1936, but the vessel was never fully completed.
The main actions the navy was involved in were the invasion of Norway in April 1940, the Battle of the Atlantic and the Battle of the River Plate. Somewhat smaller engagements included the sinkings of the HMS Royal Oak, HMS Glorious, Bismarck, HMS Hood, Scharnhorst and Cap Arcona. Most of the German surface ships were pent up in or close to their ports as fleet in being, for fear of losing them in action and to tie up British naval forces. From late 1944 until the end of the war, they were heavily engaged in providing artillery support to the retreating German land forces along the Baltic coast and in ferrying refugees to the western parts of Germany.
The German Navy of today is called Deutsche Marine.
Comparative Ranks (during WWII)
Submarines (U-boote) WWII
Top 10 U-Boat Aces WWII
266,629 tons (44 ships sunk)
Otto Kretschmer
225,712 tons (43 ships)
Wolfgang Luth
193,684 tons (34 ships)
Erich Topp
186,064 tons (29 ships)
Karl-Friedrich Merten
171,164 tons (34 ships)
Victor Schütze
171,122 tons (26 ships)
Herbert Schultze
167,601 tons (28 ships)
Georg Lassen
166,596 tons (22 ships)
Heinrich Lehmann-Willenbrock
162,333 tons (30 ships)
Heinrich Liebe
160,939 tons (28 ships), plus the British battleship Royal Oak inside Scapa Flow
Günther Prien
See also
External links
fi:Kriegsmarine fr:Kriegsmarine nl:Kriegsmarine ja:ドイツ海軍 pl:Kriegsmarine pt:Kriegsmarine