Kailua-Kona, Hawaii
From Academic Kids
Kona redirects here. There is also a Kona Bicycle Company.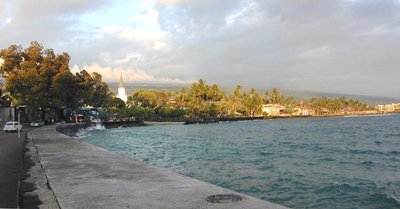 Kailua-Kona is a census-designated place located in Hawai'i County, Hawai'i, in the North Kona District of the Island of Hawai'i. It is the center of commerce and of the tourist industry on West Hawai'i.
The town is designated Kailua-Kona to differentiate it from the larger, Kailua located on windward O'ahu, although it is referred to as "Kona" in everyday speech. Many place names in the Hawaiian Islands are repeated on several islands, but the two Kailuas are the only confusing conflict in this regard.
As of the 2000 Census, the town had a population of 9,870.
The city is served by Kona International Airport.
History
Kailua was chosen by Kamehameha I to be his seat of government, and the capital of the newly unified Kingdom of Hawai'i. The capital was later moved to Lahaina, Maui, and then, finally, to Honolulu, O'ahu.
Geography
Missing image
HIMap-doton-KailuaHawaii.PNG
Location of Kailua-Kona, Hawai'i


Kailua is located at 19°38'60" North, 155°59'39" West (19.649973, -155.994028)Template:GR, along the shoreline of Kailua Bay and up the southern slope of Hualālai volcano.
According to the United States Census Bureau, the CDP has a total area of 103.0 km² (39.8 mi²). 91.9 km² (35.5 mi²) of it is land and 11.0 km² (4.3 mi²) of it is water. The total area is 10.71% water.
The Kailua-Kona Postal Code is 96740. Other communities located in this zip code include: Kalaoa, Kealakehe, Kahalu'u, and Keauhou.
Demographics
As of the censusTemplate:GR of 2000, there were 9,870 people, 3,537 households, and 2,429 families residing in the CDP. The population density was 107.3/km² (278.0/mi²). There were 4,322 housing units at an average density of 47.0/km² (121.7/mi²). The racial makeup of the CDP was 38.65% White, 0.46% Black or African American, 0.46% Native American, 18.28% Asian, 13.16% Pacific Islander, 1.93% from other races, and 27.07% from two or more races. 10.20% of the population were Hispanic or Latino of any race.
There were 3,537 households out of which 35.0% have children under the age of 18 living with them, 49.6% were married couples living together, 13.6% had a female householder with no husband present, and 31.3% were non-families. 22.6% of all households were made up of individuals and 7.2% had someone living alone who was 65 years of age or older. The average household size was 2.78 and the average family size was 3.26.
In the CDP the population was spread out with 27.3% under the age of 18, 9.0% from 18 to 24, 28.8% from 25 to 44, 24.9% from 45 to 64, and 10.0% who were 65 years of age or older. The median age was 36 years. For every 100 females there were 98.8 males. For every 100 females age 18 and over, there were 95.8 males.
The median income for a household in the CDP was $40,874, and the median income for a family was $46,657. Males had a median income of $30,353 versus $26,471 for females. The per capita income for the CDP was $20,624. 10.8% of the population and 6.5% of families were below the poverty line. Out of the total population, 11.9% of those under the age of 18 and 3.9% of those 65 and older were living below the poverty line.
External links
Template:Mapit-US-cityscale
de:Kailua-Kona