From Academic Kids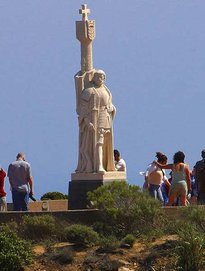 Juan Rodríguez Cabrillo
, in
Portuguese
João Rodrigues Cabrilho
, (ca
1499
–
January 3
,
1543
) was a
Portuguese
explorer
noted for his exploration of the west coast of
North America
while sailing for
Spain
(some argue he was indeed
Spanish
). Cabrillo was the first
European
explorer to navigate the coast of present day
California
in the
United States
. He also helped found the city of
Oaxaca, Oaxaca
, in
Mexico
.
Cabrillo shipped for Havana as a lad and joined the forces of Hernán Cortés in Mexico. Later, his entrepreneurial skills, enslaving the natives of his landholdings to mine gold in Guatemala, made him one of the richest of the conquistadors in Mexico.
Following the 1539 voyage of Francisco de Ulloa, who had been commissioned by Hernán Cortés and had discovered the Gulf of California, reaching as far the 28th parallel, Cabrillo was commissioned by the viceroy of New Spain, Antonio de Mendoza, to lead an expedition up the Pacific coast in search of trade opportunities, perhaps to find a way to China, for the full extent of the northern Pacific was still unrealized, or the mythical Strait of Anián that supposedly connected the Pacific Ocean to Hudson Bay, providing a route for the Northwest Passage. Cabrillo, who had started life as a shipbuilder's boy, had built and owned the flagship of his venture (two or three ships), and stood to profit from any trade or treasure.
On June 27, 1542, Cabrillo set out from Navidad (now Acapulco) in New Spain. On September 28, 1542, he landed in what is now San Diego Bay and gave it its name. Going up the coast, he sailed through the Santa Barbara Channel and around Point Conception, eventually sailing as far north as the Russian River before autumn storms forced them to turn back. On November 23, 1542, the little fleet limped back to "San Salvador" (Santa Catalina Island) to overwinter and make repairs. There Cabrillo splintered his shin, which developed gangrene and he died on Jan. 3, 1543 and was buried. His second-in-command brought the remainder of the party back to Navidad, where they arrived April 14, 1543.
A notary's official report of Cabrillo's inconclusive expedition was lost; all that survives is a summary of it made by another investigator, Andrés de Urdaneta, who also had access to ships' logs and charts. No printed account of Cabrillo's voyage appeared in print before historian Antonio de Herrera's account early in the 17th century.
Although his discoveries went largely unnoticed at the time, and none of his place names were permanently adopted, though he founded no settlements on the well-populated coast, Cabrillo is now remembered as the first European to travel the California coast, and many streets and buildings in California bear his name. In San Diego, the National Park Service operates a monument, Cabrillo National Monument, overlooking the bay commemorating his first landing in California and offering views of both San Diego and the Pacific Ocean.
External links