Jet Propulsion Laboratory
From Academic Kids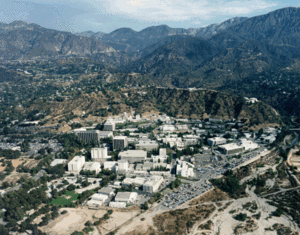 Missing image
JPLControlRoom.jpg
The Caltech Jet Propulsion Laboratory (JPL) near Pasadena, California builds and operates unmanned spacecraft for NASA. JPL-run projects include the Galileo Jupiter mission and the Mars rovers, including the 1997 Mars Pathfinder and the twin 2003 Mars Exploration Rovers. To date, JPL has sent unmanned missions to every planet, except Pluto. In addition, JPL has also done extensive mapping missions of the Earth. JPL also manages the world-wide Deep Space Network, with facilities in California's Mojave Desert, in Spain near Madrid and in Australia near Canberra.
Almost all of the 177 acre (0.7 km²) JPL campus is actually located in the city of La Canada Flintridge, California, but the JPL main gate and several buildings are in Pasadena, so it maintains a Pasadena address (4800 Oak Grove Drive, Pasadena, CA 91109). There are approximately 5,000 full-time employees, and typically a few thousand additional contractors work there on any given day. There are also some college student interns and co-op students. The lab has an open house once a year on a Saturday in May, when the public is invited to tour the facilities and see live demonstrations of JPL science and technology. More limited private tours are also available throughout the year if scheduled well in advance. Thousands of schoolchildren from around Southern California and elsewhere visit the lab every year.
History
JPL dates back to the 1930s, when Caltech professor Theodore von Kármán began running rocket propulsion experiments on the site. JPL was co-founded with rocket scientist Jack Parsons, which has led some to affectionately refer to it as the "Jack Parsons Lab." During World War II, the United States Army Air Corps asked JPL to analyze the V2 rockets that were developed by Nazi Germany, as well as work on other projects for the war effort. From this study, JPL developed the Corporal rocket which was used in the Korean War. This project later evolved into the Sergeant Rocket until it was discontinued in 1958.
By 1958, JPL's government affiliation was transferred to the new National Aeronautics and Space Administration (NASA), and JPL's current mission of unmanned planetary exploration began. JPL retained its original name after the transition, even though any research into jet propulsion ceased after 1958.
Other works
In addition to its government work, JPL has also assisted the nearby motion picture and television industries, by advising them about scientific accuracy in their productions. Science-fiction shows advised by JPL include Babylon 5 and its sequel series Crusade.
The Space Flight Operations Facility and Twenty-five-foot Space Simulator are designated National Historic Landmarks.
Missions
Listed chronologically, the following significant missions were partially sponsored by JPL. See this page (http://www.jpl.nasa.gov/missions/) for a complete list of missions.
List of Directors
External link
eo:Jet Propulsion Laboratory fr:Jet Propulsion Laboratory id:Jet Propulsion Laboratory it:Jet Propulsion Laboratory nl:Jet Propulsion Laboratory ja:ジェット推進研究所 pl:Jet Propulsion Laboratory zh:喷气推进实验室