Japanese Instrument of Surrender
From Academic Kids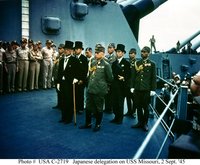 The Instrument of Surrender of Japan was the armistice ending World War II. It was signed by representatives of the Empire of Japan, the United States, the Republic of China, the United Kingdom, the Union of Soviet Socialist Republics, the Commonwealth of Australia, the Dominion of Canada, the Provisional Government of the French Republic, the Kingdom of the Netherlands, and the Dominion of New Zealand on the deck of the USS Missouri in Tokyo Bay on September 2, 1945 and which thereby ended the Pacific War and with it World War II. The date is sometimes known as Victory over Japan Day, although that designation is more frequently used to refer to the date of Emperor Hirohito's announcement of the acceptance of the terms of the Potsdam Declaration.
Missing image
Shigemitsu-signs-surrender.jpg
It was first signed by Japanese foreign minister Mamoru Shigemitsu "By Command and on behalf of the Emperor of Japan and the Japanese Government" and then Gen. Yoshijiro Umezu "By Command and on behalf of the Japanese Imperial General Headquarters" at 9:04 AM. Afterwards, U.S. General Douglas MacArthur, Commander in the Southwest Pacific and Supreme Commander for the Allied Powers, also signed. He was followed by Admiral Chester Nimitz for the United States, Hsu Yung-Ch'ang for the Republic of China, Bruce Fraser for the United Kingdom, Kuzma Derevyanko for the Soviet Union, Thomas Blamey for Australia, Colonel Lawrence Moore Cosgrave for Canada, General Jacques Leclerc for France, C.E.L. Helfrich for the Netherlands, and Leonard M. Isitt for New Zealand.
On September 6, Colonel Bernard Theilen brought the document and an imperial rescript to Washington, DC and on the following day presented them to President Harry Truman in a formal White House ceremony. The documents were then exhibited at the National Archives.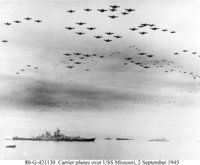 The document, prepared by the United States War Department, set out in eight short paragraphs the complete capitulation of Japan. The opening words, "We, acting by command of and in behalf of the Emperor of Japan," signified the importance attached to the Emperor's role by the Americans who drafted the document. The short second paragraph went straight to the heart of the matter: "We hereby proclaim the unconditional surrender to the Allied Powers of the Japanese Imperial General Headquarters and of all Japanese armed forces and all armed forces under Japanese control wherever situated." The document demanded that Japan "carry out the provisions of the Potsdam Declaration" and free all allied prisoners of war.
See also
External link