James Madison University
From Academic Kids
JMU is also the abbreviation for John Moores University in Liverpool, England
James Madison University
Missing image
JamesMadisonUniversityseal.jpg
James Madison University Seal


Missing image
Wilson_hall.jpg
James Madison University
(also known as
JMU
), located in
Harrisonburg, Virginia
,
USA
, was founded in
1908
as a school for women. It is a state funded public university. Since its founding in 1908, JMU has grown to today's coeducational comprehensive university with an enrollment of approximately 16,000. The university is in the heart of the beautiful Shenandoah Valley. The campus quad is located on Harrisonburg's Main Street. The campus originally fit between Harrisonburg's Main Street and
Interstate 81
, but has since expanded across the Interstate with the addition of The College of
Integrated Science and Technology
(ISAT), the University Recreation Center (UREC), the College Center Conference/Dining facility, the Leeolou Alumni Center, and several residence halls in the mid-late 1990's. In the past 4 years atheletic fields have been developed around what is known today as east campus.
Administration
Dr. Linwood H. Rose has been JMU's President since September 1998. He is only the fifth President in the University's long history. Before being named President, Rose served as a member of the institution's administration for 23 years, including service as Executive Vice President and Chief Operating Officer.
Presidents of JMU
History
Missing image
Jmu_logo.gif
The university was established by the Virginia General Assembly in 1908 as the State Normal and Industrial School for Women at Harrisonburg. In 1914, the name of the university was changed to the State Normal School for Women at Harrisonburg. Authorization to award bachelor's degrees was granted in 1916. During this initial period of development, the campus plan was established and six buildings were constructed.
The university became the State Teachers College at Harrisonburg in 1924 and continued under that name until 1938, when it was named Madison College in honor of the fourth president of the United States. In 1976 the university's name was changed to James Madison University.
The first president of the university was Julian Ashby Burruss. The university opened its doors to its first student body in 1909 with an enrollment of 209 students and a faculty of 15. Its first 20 graduates received diplomas in 1911.
Dr. Samuel Page Duke became the second president of the university in 1919 upon the resignation of Burruss, who became president of Virginia Polytechnic Institute and State University. During Duke's administration, nine major buildings were constructed.
In 1946 men were first enrolled as regular day students. Dr. G. Tyler Miller became the third president of the university in 1949, following the retirement of Duke. During Miller's administration, from 1949 to 1970, the campus was enlarged by 240 acres (1 km²) and 19 buildings were constructed. Major curriculum changes were made and the university was authorized to grant master's degrees in 1954.
In 1966, by action of the Virginia General Assembly, the university became a coeducational institution. Dr. Ronald E. Carrier, JMU's fourth president, headed the institution from 1971 to 1998. During Carrier's administration, student enrollment and the number of faculty and staff tripled, doctoral programs were authorized, more than 20 major campus buildings were constructed and the university was recognized repeatedly by national publications as one of the finest institutions of its type in America.
Academics
Madison is comprised of 6 colleges and 78 academic programs.
Colleges
Arts and Letters
Business
Education
Graduate and Professional Programs
Integrated Science and Technology
Science and Mathematics
The school is widely expected to restructure the College of Arts and Letters in the near future. The three proposals include
The Madison College Proposal - All current CAL programs except fine arts (theater, music, art) and history departments.
College of Public and International Affairs - Would include Interdisciplinary Social Science, International Affairs, Justice Studies, Political Science, and Public Administration undergraduate programs; the Master of Public Administration graduate program, 3 experiential learning programs (the Washington Semester, an Internship Program in Public and International Affairs and an Internship Program in Justice Studies); and 4 minor programs (Political Science minor, Public Administration minor, Criminal Justice minor, and Political Communications minor).
College of Communications - Would include Communication Studies (SCOM), School of Media Arts and Design (SMAD), and Technical and Scientific Communications (TSC).
No proposal to restructure the College of Arts and Letters has been finalized.
Athletics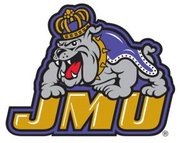 Madison's mascot is the Duke Dog, the nickname Dukes is in honor of Samuel Page Duke, second president. Madison competes in the NCAA's Division I, (Division I-AA for football), the Colonial Athletic Association, the Eastern College Athletic Conference, and the Atlantic 10 Conference for football. The students compete in the following sports: Football, Basketball, Soccer, Swimming, Diving, Archery, Fencing, Gymnastics, Volleyball, Wrestling, Baseball, Women's Lacrosse, Field Hockey, Track & Field, and Softball.
Football
Head Coach Mickey Matthews West Texas State, 1976

Career Record, JMU 27-31 (5 Years)

Assistants (Year, Duties, School-Year) Curt newsome (6th, Asst. Head Coach/OL, Emory & Henry-1982), Jeff Durden (1st, Offensive Coordinator/QB, Georgetown, Ky-1988), George Barlow (6th, Defensive Coordinator/DL, Marshall-1990), Kyle Gillenwater (6th, LB, Bridgewater-1986, Phil Ratliff (1st, TE, Marshall-1994, Chip West (1st, DB, Livingstone-1993), Casey Creehan (2nd, DE/Special Teams, Grove City-1999, Ulrick Edmonds (2nd, RB, JMU2001), Tony Tallent (2nd, WR, JMU-1993)
Athletic Trainer Scott Cook (2nd, West Virginia-1991)
In 2004, the Dukes won three straight road games before defeating the University of Montana, 31-21, at Chattanooga, Tennessee to win the school's first football national championship. Madison is currently the only school in NCAA Division I-AA to win three road games before becoming National Champions.
JMU supports student run radio station WXJM as well as public radio station WMRA.
Points of interest
External links