Italian Social Republic
From Academic Kids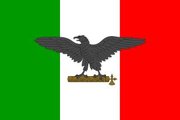 The Italian Social Republic (Repubblica Sociale Italiana in Italian), also known as the Republic of Salò, was a fascist puppet state in German-occupied northern Italy.
After the Allied forces invaded southern Italy, and began to advance toward Rome, Benito Mussolini's Grand Fascist Council, with the support of King Vittorio Emmanuele III, overthrew and arrested Mussolini. The new government began peace negotiations with the Allied powers.
Germany, concerned that Italian forces would join the Allied troops, quickly intervened. Germany seized control of northern Italy. Mussolini was rescued by Otto Skorzeny, and brought to the German-occupied area to establish a new regime. Mussolini declared on September 23, 1943, that the coup was over, and that his government was continuing as a republic, with himself as leader.
Mussolini estalished his capital at Salò, a small village on Lake Garda, and began to try to assemble the organs of State. Soon after its establishment, the Republic was forced to cede Trieste, Istria and South Tyrol to Germany, with the understanding that Venice would be taken at some point.
While Mussolini contended that he was in control of the Republic, in practice, it was a largely irrelevant and ineffective puppet of the German forces. The Republic came to an end in 1945 when Allied forces ousted the Germans from Italy.
List of RSI Ministers
See also
Miscellaneous
Pier Paolo Pasolini's 1975 film Salò o le 120 giornate di Sodoma was set in the Republic of Salò.
External links
fr:République sociale italienne it:Repubblica Sociale Italiana nl:Italiaanse Sociale Republiek ja:イタリア社会共和国 sv:Salorepubliken