InterCity Express
From Academic Kids
This article is about the ICE trains. See also ICE (disambiguation) for other meanings.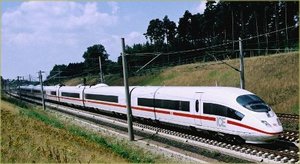 The InterCity Express or ICE is a type of high-speed train operated by Deutsche Bahn AG in Germany and to neighboring countries, for example to Amsterdam, Netherlands or Zürich, Switzerland, or Vienna, Austria (but not running at high speed in the Netherlands). The Russian state ordered 60 ICE-trains for new Highspeed-routes between St Petersburg and Moscow.
Equipment and specifications
Missing image
ICE-3-frankfurt.jpg
ICE equipment is manufactured by an industrial consortium led by Siemens AG.
ICE trains require special high-speed tracks to run at high speeds, but can run on normal tracks at normal speeds.
equipment
series number
max. engine
power
top speed
tested
top speed
in regular service
introduced
prototype (ICE-V)
410
2*4.2 MW
406,9 km/h km/h
full train 310 km/h
n/a
1985
1st generation (ICE 1)
401
2*4.8 MW
full train 328 km/h
280 km/h
1991
2nd generation (ICE 2)
402
4.8 MW
full train 310 km/h
280 km/h
1996
3rd generation (ICE 3)
403/406
8.0 MW
full train 368 km/h
350 km/h in Spain
300 km/h in Germany
2000
ICE-T
411/415
4.0 MW
full train 253 km/h
230 km/h
1998
ICE-T
Missing image
ICE-T_Photo.jpg
The ICE-T (also called ICT) is an advanced version of the train. It is a tilting train capable of running at 230 km/h on normal, pre-existing tracks.
History
The ICE originated as one of the competing concepts for new land based high speed public transportation for Germany. Another competing concept was the Transrapid. The ICE "won" in that it was adopted nationwide in Germany. However, for some reason the Transrapid was not scrapped at that point, but its development continued as well (though it was not adopted nationwide). See Transrapid.
It is argued that the ICE won out in part because of its ability to run on conventional tracks (albeit not at full speeds--and on tracks near stations they are often passed by commuter trains, especially by S-Bahn trains). The shared use of old tracks also means that normal trains often have to wait for late ICEs to pass, leading to them also being late.
In 1998, a large ICE train accident occurred, which was Germany's worst ever passenger train disaster. The accident occurred when the steel "tire" separated from the rest of one of the train's wheels, breaking the track and causing the rest of the train to derail and collide with a concrete bridge that spanned the track.
(At the time, the ICE trains used a two part wheel with a steel tire separated from the rest of the steel wheel by an elastomeric ring so as to better absorb noise and vibration. But the elastomeric separator allowed the steel tire to flex, eventually leading to metal fatigue that fractured the tire. While common in low-speed use, this two-part wheel design had never before been used on high-speed trains.)
ICE service was resumed only after an investigation found the root cause of this broken wheel and after all ICE trains' wheels were modified to use a more-conventional solid-wheel design.
Controversy
The initial development of the ICE was somewhat controversial, because the French TGV already existed and had been in operation before the ICE got originally developed. Arguably, the Deutsche Bahn/German state could have bought TGV technology and/or trains. Proponents of the decision to go ahead and develop the ICE argue that the ICE is technologically superior (which too could be argued about) and that getting German companies to develop such technology was an important investment in the future of a German high tech industry and knowledge economy. Critics argue that it was a waste of tax payers' money, since essentially the same end product could have been bought "off the shelf" (referring to the option of buying TGV trains), that it was a nationalist exercise (in that certain politicians felt a German train had to be developed as opposed to buying a French one) and that the go-ahead for ICE development effectively constituted the then German government subsidizing certain large companies.
This argument has however long since subsided and the ICE has long since commenced large scale, nationwide service in Germany, which it continues to provide.
Trivia
All seats have an audio minijack, allowing passengers to plug in headphones and choose from about 7 music/entertainment channels and radio stations. Basic headphones can also be purchased on the trains.
With most ICE trains, there is one carriage (sometimes more) where individual seats are equipped with LCD screens. (The screens are actually built into the backrest of the seat in front.) Usually there are two video channels to choose from, which typically show feature films, like airlines would do. There are no speakers, but the corresponding audio is available via the audio minijack (see above).
At both ends of ICE3 trains there is a passenger compartment (on one side 1st, on the other side 2nd class) with a view on the tracks, due to transparency of the glass wall separating the compartment from the driver's cabin. In special circumstances the driver can make the wall opaque by the press of a button.
There is also a compartment with a play area for children.
ICE2, ICE3 as well as the ICE-T trains have power outlets for electrical devices such as laptops; these are hidden under the tray tables.
All ICEs have "repeater" carriages, which are equipped with technology to enable mobile phone use (as the windows have a metal coating). Only in these carts cell phone use is possible. These carts are marked with a sticker of a symbolized mobile phone.
"Silent" carriages have a sticker with a symbolized whispering sign. In these carriages use of laptops, mobile phones and other "noisy" equipment is prohibited.
External links
See also
da:ICE de:InterCityExpress es:Inter City Express fr:InterCityExpress nl:Intercity Express ja:ICE sv:ICE zh:ICE列車