Indian Removal Act
From Academic Kids
The Indian Removal Act of 1830 was a law passed by the Twenty-first United States Congress in order to facilitate the relocation of American Indian tribes living east of the Mississippi River in the United States to lands further west. The Removal Act was signed into law by President Andrew Jackson on May 28, 1830.1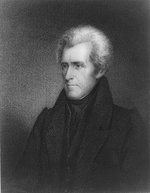 The Removal Act did not actually order the removal of any Native Americans. Rather, it authorized the President to negotiate land-exchange treaties with tribes living within the boundaries of existing U.S. states. In the Louisiana Purchase of 1803, the United States had acquired a claim to a vast amount of land west of the Mississippi River. The stated purpose of the Removal Act was to resettle Indian tribes on this land in exchange for their tribal lands in the East. These western lands would eventually become known as "Indian Territory."
The Removal Act was strongly supported in the South, where states were eager to gain access to lands claimed by the "Five Civilized Tribes." In particular, Georgia, the largest state at that time, was involved in a contentious jurisdictional dispute with the Cherokee nation. President Jackson, who supported Indian removal primarily for reasons of national security, hoped removal would resolve the Georgia crisis.
Opposition to the Removal Act among white Americans was widespread. Prominent opponents of the law included Christian missionary organizer Jeremiah Evarts, U.S. Senator Theodore Frelinghuysen, and Congressman David Crockett of Tennessee.
The first removal treaty signed after the Removal Act was the Treaty of Dancing Rabbit Creek on September 27, 1830, in which Choctaws in Mississippi ceded land east of the river in exchange for payment and land in the West. The Treaty of New Echota (signed in 1835) resulted in the removal of the Cherokee on the Trail of Tears.
For the effects of the Removal Act, see Indian Removal.
See also
Notes
Note 1: The U.S. Senate passed the bill on 24 April 1830, the U.S. House passed it on 26 May 1830; Francis Paul Prucha, The Great Father: The United States Government and the American Indians, Volume I (Lincoln: University of Nebraska Press, 1984), p. 206.
External links