Icehouse (building)
A mobile structure used in ice fishing may also be known as an icehouse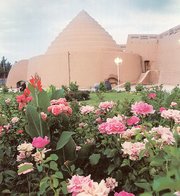 Ice houses
were buildings used to store
ice
throughout the year, prior to the invention of the
refrigerator
. The most common designs involved underground chambers, usually man-made, which were built close to natural sources of winter ice such as freshwater lakes.
During the winter, ice and snow would be taken into the ice house and packed with insulation, often straw. It remains frozen for many months, often until the following winter, and could be used as a source of ice during summer months. This could be used simply to cool drinks, or allow ice-cream and sorbet desserts to be created.
Ice houses allowed a trade in ice that was a major part of the early economy of the New England region of the United States, which saw many fortunes made by people who shipped ice in straw-packed ships to countries and colonies throughout the Caribbean Sea.
See also deep lake water cooling.