Hugh Grant
From Academic Kids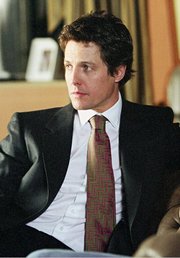 Missing image
Hughgrantmug.jpg
Hugh Grant (born September 9, 1960, London, England) is a British actor.
He was born Hugh John Mungo Grant in London, and tends to play the archetypal Englishman, although his father, James Grant, is Scottish.
After attending Latymer Upper School for boys, Grant studied English at New College, Oxford. He made his film debut in 1982 with Oxford-financed Privileged. Television came later, in 1985. One of his first major film roles was in The Remains of the Day (1993), and he became simultaneously known as the partner of actress Elizabeth Hurley whom he had been dating since 1987 or earlier, but it was Four Weddings and a Funeral (1994) which turned him into a major star.
Not long after gaining the starring role in Sense and Sensibility in 1995, Grant was arrested near Sunset Boulevard in Hollywood, having been caught having oral sex with a prostitute, Divine Brown, in a car. A public apology on Jay Leno's Tonight Show helped win back public support. Although he was forgiven by Hurley, they broke up some years later. He is presently involved with British heiress Jemima Khan, former wife of Pakistani political figure and cricket star Imran Khan and a daughter of Sir Jimmy Goldsmith.
Grant kept a low profile until 1999, when he starred in Notting Hill opposite Julia Roberts, and followed up with major successes in Bridget Jones's Diary (2001), About a Boy (2002) and Two Weeks Notice (2002) opposite Sandra Bullock. He returned to partnership with Richard Curtis in the 2003 romantic comedy, Love Actually. The sequel to Bridget Jones's Diary, Bridget Jones: The Edge of Reason was released in 2004.
The boy who played "Sam" in Love Actually, Thomas Sangster, is Grant's cousin.
Grant played cricket in his younger days, and currently enjoys playing golf, frequently taking part in pro-am tournaments and receives tuition from Colin Montgomerie.
Filmography
See also
External links
---
de:Hugh Grant
eo:Hugh GRANT fr:Hugh Grant he:יו גרנט nl:Hugh Grant ja:ヒュー・グラント sv:Hugh Grant