Howlin' Wolf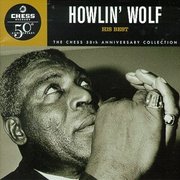 Howlin' Wolf (June 10, 1910 – January 10, 1976) was an African American blues singer, songwriter, guitarist and harmonica player.
At 6 foot 3 inches and close to 300 pounds he was an imposing presence with one of the loudest and most memorable voices of all the "classic" 1950s blues singers. Howlin' Wolf's voice has been compared to "the sound of heavy machinery operating on a gravel road".
Born Chester Arthur Burnett, he was nicknamed "Big Foot" and "Bull Cow" in his early years, and he explained the origin of the name "Howlin' Wolf" thus: "I got that from my grandfather, he used to tell me stories about the wolves in that part of the country." As a youth he listened to Charley Patton, who taught him the rudiments of guitar, as well as to the Mississippi Sheiks, Tommy Johnson and Jimmie Rodgers, whose famous "blue yodel" Burnett integrated into his singing style. His harmonica playing was modelled on that of Rice Miller (Sonny Boy Williamson).
He farmed during the 1930s, served in the United States Army, and by 1948 had formed a band which included guitarists Willie Johnson and M. T. Murphy, harmonica-player Junior Parker, a pianist named Destruction, and drummer Willie Steele. He began broadcasting in West Memphis, Arkansas, and auditioned for Sam Phillips' Memphis Recording Service in 1951.
Howlin' Wolf quickly became a local celebrity, and soon began working with a band that included both Willie Johnson and guitarist Pat Hare. His first recordings came in 1951, when he was simultaneously signed to The Bihari Brothers' Modern Records and to Leonard Chess' Chess Records. Chess issued Howlin' Wolf's "How Many More Years" in August 1951; Wolf also recorded sides for Modern, with Ike Turner, in late 1951 and early 1952. Chess eventually won the war over the singer, and Wolf settled in Chicago. He began playing with guitarist Hubert Sumlin, whose terse, curlicued solos perfectly complemented Burnett's huge voice and surprisingly subtle phrasing. In the mid-'50s Wolf released "Evil" and "Smokestack Lightnin,'" both major R&B hits.
His 1962 album Howlin' Wolf is one of the most famous and influential blues records, known for its cover illustration of a rocking chair. This album contained "Wang Dang Doodle," "Goin' Down Slow," "Spoonful" and "The Red Rooster," songs which found their way into the repertoires of British and American bands infatuated with Chicago blues. In 1965 he appeared on the television show Shindig along with the Rolling Stones, who had covered "The Red Rooster" on an early album. He was often backed by bassist, songwriter Willie Dixon who authored such Howlin' Wolf standards as "Spoonful,", 'I Ain't Superstitious," "Little Red Rooster," "Back Door Man," 'Evil," 'Wang Dang Doodle,' [primarily known as a Koko Taylor hit] and others.
He recorded his last album for Chess, The Back Door Wolf, in 1973.
Howlin' Wolf, Rice Miller, Little Walter Jacobs and Muddy Waters are usually regarded as the greatest blues artists who recorded for Chess in Chicago. Sam Phillips once remarked of Chester Arthur Burnett, "When I heard Howlin' Wolf, I said, 'This is for me. This is where the soul of man never dies.' "de:Howlin' Wolf fr:Howlin' Wolf