Howler monkey
From Academic Kids
The howler monkeys (genus Alouatta monotypic in subfamily Alouattinae) are among the largest of the New World monkeys. Nine species are currently recognised. Previously classified in the family Cebidae, they are now placed in the family Atelidae.
Missing image
HowlerHanging.jpg
Howler monkeys range in size from 56 to 92cm, excluding their tail which can be as long again. Like many New World monkeys, they have prehensile tails. They have a lifespan of 15 to 20 years. These monkeys are native to South and Central American forests. They live in groups of usually about 18 individuals. Threats to howler monkeys include being hunted for food and export.
As their name suggests, vocal animal communication forms an important part of their social behaviour. Specifically, the name comes from their distinctive loud barking whoop they make, which can be heard over considerable distances. They have an enlarged basihyal or hyoid bone which helps them make their loud sound. Unlike other New World monkeys, both male and female howler monkeys have trichromatic colour vision.
The large slow moving monkeys are the only folivores of the New World monkeys. Howlers eat mainly top canopy leaves, together with fruit, buds, and flowers. They move quadrapedally and do not brachiate, usually holding on to a branch with at least two hands or one hand and the tail at all times. Their prehensile tails are strong enough to support the monkey's entire body weight, although they seldom do so. The first 2 fingers of each hand are set apart and are opposable to the other three. They very seldom leave the trees.
Howlers and humans
Howlers are seen in the art of the Pre-Columbian Maya civilization.
Alexander von Humboldt said that "their eyes, voice, and gait are indicative of melancholy", while John Lloyd Stephens described those at the ruins of Copán as "grave and solemn as if officiating as the guardians of consecrated ground".
While seldom aggressive, they do not take well to captivity and are of surly disposition, and hence are the only monkey in their forests not made a pet by the Native Americans.
Classification
Family Atelidae

Subfamily Alouattinae

A. palliata group
A. seniculus group
A. caraya group

Subfamily Atelinae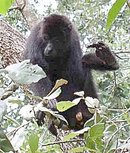 Missing image
PNM_Howler_Tail.jpg
Missing image
PNM_Howler_Hand.jpg
Missing image
PNM_MantledHowler_Christine.jpg
References
Jacobs, G. H., Neitz, M., Deegan, J. F., & Neitz, J. (1996). Trichromatic colour vision in New World monkeys. Nature, 382, 156-158.de:Brüllaffen