Hilton Hotels Corporation
From Academic Kids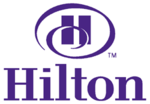 Hilton Hotels Corporation Template:Nyse operates one of the world's largest chains of hotels. It is headquarted in Beverly Hills, California.
Founded by Conrad Hilton in Cisco, Texas, the chain has 499 hotels across the world and has partnerships with many airline and car rental companies. The Hilton Hotels company has always been a family enterprise.
The original company, formed in 1919, sold the rights to the Hilton brand name outside of North America to a British company, which renamed itself Hilton Group. Because of this, there are two separate, fully independent companies operating hotels under the Hilton name. To minimize consumer confusion, they have a joint marketing agreement under which they share the same logos and promote each other's brands.
Hilton brands
Conrad Hotels
Doubletree, Doubletree Guest Suites, Doubletree Club Hotel
Embassy Suites Hotels
Hampton Inn, Hampton Inn & Suites
Hilton Hotels
Hilton Garden Inn
Hilton Grand Vacations Company (timeshares)
Homewood Suites by Hilton
Selected hotels
Trivia
Related articles
External links
Template:Corp-stubde:Hilton (Hotel) he:הילטון ja:ヒルトン sv:Hilton