Henri Matisse
From Academic Kids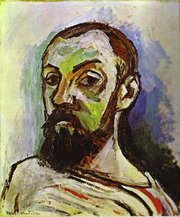 Henri Matisse (December 31, 1869 – November 3, 1954) was a French artist.
Influenced by the works of Édouard Manet, Impressionists Paul Signac and Paul Cézanne, and also by traditional Japanese art, Matisse painted in the Fauvist manner, and became known as a leader of that movement.
He painted with blaze of intense shades, flat shapes and controlled lines, with expression dominant over detail. He depicted mostly domestic scenes and figures.
Working in a number of modes, but principally as a painter, Matisse was one of the few artists to achieve widespread fame during his lifetime.
He was born Henri-Émile-Benoît Matisse in Le Cateau-Cambrésis, Nord-Pas-de-Calais, France, and grew up in Bohain-en-Vermandois. In 1887 he went to Paris to study law, after which worked as a court administrator in Le Cateau-Cambrésis.
Following a bout of appendicitis he took up painting during his convalescence. After recovering, he returned to Paris in 1891 to study art at the Académie Julian and studied under Odilon Redon and Gustave Moreau.
His work first exhibited in 1901, and his first solo exhibition was in 1904.
His fondess for bright and expressive colour became more pronounced after he moved southwards to the French Riviera in 1905 to work with André Derain. The decline of the Fauvist movement after 1906 did not affect his work's rise in popularity. Matisse moved through the Fauvist style and created many of his best known works between 1906 and 1917 when he was an active amongst the artists gathered in Montparnasse.
Matisse lived in Cimiez on the French Riviera, now a suburb of the city of Nice, from 1917 until his death in 1954.
In 1941 he was diagnosed with cancer and, following surgery he soon got around in a wheelchair. He continued to create, but when too weak to work at an easel, he created cut paper collages called papiers découpés, often of some size.
In 2000, La robe persane sold for over US$17 million. In 2002, a Matisse sculpture, Reclining Nude I (Dawn), sold for US$9.2 million.
Partial list of works
Resources
Hilary Spurling "The Unknown Matisse: A Life of Henri Matisse", Vol. 1, 1869-1908. London: Hamish Hamilton Ltd, 1998, ISBNt 0679434283Template:Commons
da:Henri Matisse de:Henri Matisse es:Henri Matisse fr:Henri Matisse hu:Henri Matisse it:Henri Matisse nl:Henri Matisse ja:アンリ・マティス fi:Henri Matisse pt:Henri Matisse sv:Henri Matisse zh:亨利·马蒂斯