Gram (mythology)
From Academic Kids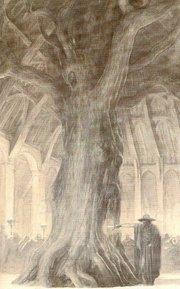 Template:VölsungIn Norse mythology, Gram was the name of the sword that Sigurd (Siegfried) used to kill the dragon Fafnir. It was forged by Weyland The Smith and originally belonged to his father, Sigmund, who received it in Götaland after pulling it out of a log into which Odin had stuck it—nobody else could pull it out. The sword was destroyed and reforged at least once. After it was reforged, it clove an anvil in half. See Sigurd for more details on the story of Siegfried and Fafnir.
In the Nibelungenlied, Siegfried's sword is called Balmung.
Appearances in popular culture
Balmung is also used as the name of a weapon in Castlevania: Aria of Sorrow, where it can be found in the Battle Arena through taking one of three trials. It is also the name of a character in the .Hack series. Gram is an artifact in Valkyrie Profile which is an equipable weapon for two-handed swordsmen. In Soul Calibur 2 Gram is one of Nightmare's (aka Siegfried) extra weapons.
Template:Myth-stubda:Gram (sværd) de:Gram ja:グラム (北欧神話) sv:Gram (mytologi)