Goddess of Democracy
From Academic Kids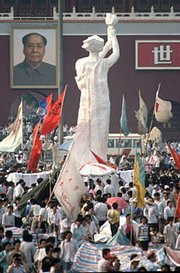 The
Goddess of Democracy
(
Chinese
: 民主女神;
pinyin
: mínzhǔ nǚshén), also known as the
Goddess of Democracy and Freedom
, was a 10-meter high statue created during the
Tiananmen Square protests of 1989
.
It was inspired by the Statue of Liberty, and was constructed in only four days out of styrofoam and papier-mâché by students of the Central Academy of Fine Arts. The students decided to make the statue as large as possible so the government would be unable to dismantle it. The government would either have to destroy it, showing their anti-democratic nature, or leave it standing.
On May 30, 1989, it was erected in Tiananmen Square, facing the large photograph of Mao Zedong posted on Tiananmen Gate. The Chinese People's Liberation Army destroyed the statue during the June 4 protests.
Replicas
Several replicas of the statue have been erected to commemorate the events of 1989. These include:
A replica erected at a vigil attended by tens of thousands of people in Victoria Park, Hong Kong on June 4, 1996.
A bronze sculpture was built in 1999 by Thomas Marsh. It weighs approximately 600 pounds (272 kg) and stands in Portsmouth Square, in San Francisco's Chinatown.
There is a copy at the University of British Columbia, erected by the school's Alma Mater Society.
There is a replica at York University in Toronto, Canada.
External link