Froogle
From Academic Kids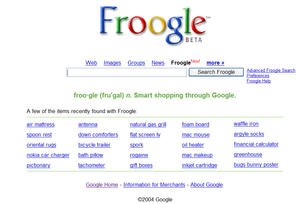 Froogle is a price engine website launched by Google Inc. It is currently in its development stages. Users can type product queries to return lists of vendors selling a particular product, as well as pricing information. The name Froogle is a portmanteau of the word frugal, which means thrifty, and the name of the company, Google. Froogle is of course pronounced the same as frugal.
Froogle is different from most other price engines in that it neither charges any fees for listings, nor accepts payment for products to show up first. Also, it makes no commission on sales. Any company can submit a data feed and be included. However companies can pay for advertising to be displayed in Froogle. This would be an AdWords ad, similar to those in other parts of the Google network. This is noticeably separate from the links sorted by relevance.
Searches can be sorted by relevance, and by price, in two ways. Higher or lower prices can appear first. You can also order items by store. Froogle is currently in a beta stage, and is only available in selected countries.
Google announced Froogle in December 2003, after the site had been active in beta for some months. It is now also offered in Wireless Markup Language (WML) form and can be accessed from cellphones or other wireless devices that have support for WML.
See also
External links