Fremont, Seattle, Washington
From Academic Kids
Missing image
Seattle_Map_-_Fremont.png
Fremont is a neighborhood in Seattle, Washington. Named after Fremont, Nebraska, the hometown of two of its founders, L. H. Griffith and E. Blewett, it is situated along the Fremont Cut of the Lake Washington Ship Canal to the north of Queen Anne, the east of Ballard, the south of Phinney Ridge, and the southwest of Wallingford. Its boundaries are not fixed, but they can be thought of as consisting of the Ship Canal to the south, Stone Way N. to the east, N. 50th Street to the north, and 8th Avenue N.W. to the west.
The neighborhood's main thoroughfares are Fremont and Aurora Avenues N. (north- and southbound), and N. 46th, 45th, 36th, and 34th Streets (east- and westbound). The Aurora Bridge (George Washington Memorial Bridge) carries Aurora Avenue (Washington State Route 99) over the Ship Canal to the top of Queen Anne Hill, and the Fremont Bridge carries Fremont Avenue over the canal to the hill's base.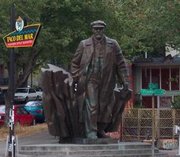 Sometimes referred to as "The People's Republic of Fremont," and at one time a center of the counterculture, Fremont has somewhat gentrified in recent years. The neighborhood remains home to a statue of Lenin salvaged from Slovakia after the fall of the communist government in 1989 and to the Fremont Troll, an 18-foot tall concrete sculpture of a troll crushing a Volkswagen Beetle in its right hand, created in 1990 and situated under the north end of the Aurora Bridge. In addition, signs throught Fremont proclaim conflicting messages such as "Set your watch forward an hour", "Set your watch back an hour" and "Throw your watch out the window."
Since the late 1990s, Fremonters, or Fremonsters, have been referring to their neighborhood as "The Center of the Universe."
The Fremont Arts Council sponsors several annual events in Fremont including the Summer Solstice Parade and Troll-a-ween.
The world headquarters of Getty Images is located in Fremont, as well as Adobe Systems' Seattle offices, Cutter & Buck's corporate headquarters, and Hale's Ales brewery. The original Redhook brewery was located in Fremont until its closure in 2002.
Fremont was annexed in 1891.
External Links