Free-fall
From Academic Kids
For other uses, see Free-fall (disambiguation).
Free-fall or free fall in the strict sense is the condition of acceleration which is due only to gravity. In other words, the objects undergoing freefall experience only one force: their own weight.
Examples include:
as opposed to the cases where other forces are acting, including: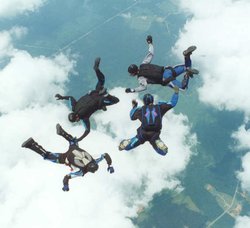 More generally, freefall is the condition of acceleration which is due only to gravity and air friction: in parachuting, freefall (skydiving) refers to the act of falling and delaying the opening of a parachute. Freeflying is skydiving in other body positions than the more standard belly flying.
With air friction acting upon an object that has been dropped the object will eventually reach terminal velocity (around 120 miles/hour) if the fall is from sufficient altitude (2,000 ft) and also otherwise uninterrupted.
People surviving free fall
At least three airmen have survived free falls of around 20,000 ft (6,000 m) without a parachute in the Second World War; Lt. I.M. Chisov was a Russian bomber, Sgt. Alan Magee an American gunner on a B-17, and Sgt. Nicholas Alkemade a British gunner on a Lancaster bomber. It is estimated that a person free falling horizontally, reaches a terminal velocity of around 120 mph (200 km/h) after a fall of just 2,000 ft (600 m), so the additional 18,000 ft (5,500 m) doesn't make these falls that much more dangerous, apart from the lack of oxygen at high altitude. All three men lost consciousness during their falls, and two of them landed on terrain covered in deep snow, which was probably a significant factor in the survivability of the falls.
Vesna Vulović, a flight attendant from Yugoslavia, survived a fall from 10,160 m (33,330 ft) when the DC-9 airplane she was traveling in blew up over Srbská Kamenice, Czechoslovakia, on January 26, 1972. A terrorist bomb was thought to be the cause. Vesna broke both legs and was temporarily paralyzed from the waist down. No other passengers survived. [1] (http://www.guinnessworldrecords.com/content_pages/record.asp?recordid=43941)
Stories about desperate Russians deploying paratroopers without parachutes (unsucessfully) during World War II are most likely fabricated. [2] (http://www.greenharbor.com/fffolder/questions.html#anchor1234559)
References