Flag of Russian SFSR
From Academic Kids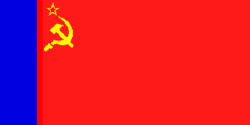 This flag was adopted by the Russian SFSR in 1954. The constitution stipulated:
The state flag of the Russian Soviet Federative Socialist Republic presents itself as a red rectangular sheet with a light-blue stripe at the pole extending all the width (read height) which constitutes one eighth length of the flag.
Between 1937 and the adoption of the above flag, the flag was red with the gold Cyrillic characters РСФСР (RSFSR) in the top-left corner, in a serif font.
See also: Flag of the Soviet Union, Flag of Russia