Flag of Kuwait
From Academic Kids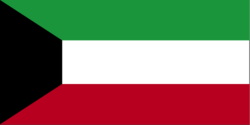 The flag of Kuwait was adopted on September 7, 1961. and officially hoisted November 24, 1961.
The colors meaning came from a poem by Safie Al-Deen Al-Hali:
White for our work
Black for our struggles
Green for our spring homes
Red for our past.
Rules of hanging and flying the flag:
Horizontaly: The green stripe should be on top.
Vertically: The green strip should be on the right side of the flag.
External link
de:Flagge Kuwaits
es:Bandera de Kuwait he:דגל כווית it:Bandiera kuwaitiana ja:クウェートの国旗 pt:Bandeira do Kuwait sv:Kuwaits flagga