Flag of Ghana
From Academic Kids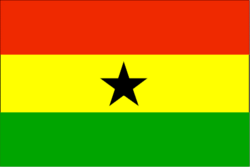 The flag of Ghana was adopted in 1957. It was replaced with a variant with a white stripe in the middle from 1964 to 1966.
The flag was designed by Mrs. Theodosia Okoh to replace the flag of the United Kingdom upon attainment of independence in 1957. It consists of the Pan-African colours of Ethiopia, i.e. red, gold and green, in horizontal stripes with a black five-pointed star in the centre of the gold stripe. The Ghanaian flag was the first African flag after the Flag of Ethiopia to feature these colours.
The red represents the blood of those who died in the country's struggle for independence, the gold represents the mineral wealth of the country, the green symbolises the country's rich forests and natural wealth, and the black star stands for the lodestar of African freedom.
de:Flagge Ghanas
fr:Drapeau du Ghana it:Bandiera del Ghana he:דגל גאנה ja:ガーナの国旗 pt:Bandeira do Gana sv:Ghanas flagga