Fire eater
From Academic Kids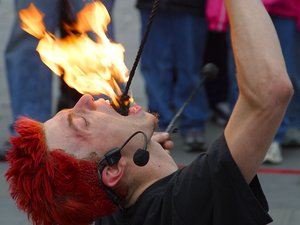 A fire eater is an entertainer, often a street artist or part of a side show. The performer places flaming objects into their mouth and extinguishes them, in addition to techniques for controlling and transferring the flame.
Fire eating was a common part of Hindu Saddhu and Fakir performances to show spiritual attainment. It became a part of the standard sideshow acts in the late 1880s and is often seen as one of the entry-level skills for sideshow performers.
Other than sound fire safety precautions and some practical advice regarding the laws of physics (ie. "hot air rises"), there are few secrets to eating fire. There is no such thing as "cold flame" nor is there any special substance in the performer's mouth other than saliva. It is a very dangerous act and should not be attempted without professional training.
See Also
External links