Ettayapuram
From Academic Kids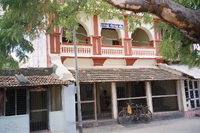 Ettayapuram (எட்டையாபுரம் in Tamil) is a village in Thoothukudi (a.k.a. Tuticorin) district of Tamil Nadu. It is notable for being the birth place of the great Tamil Poet Mahakavi Bharathiar. Muthuswami Dikshitar, one of the triad of Carnatic music also was patronised in his final years by the ruler of Ettayapuram. Umarup pulavar also lived here.
History
Ettayapuram was originally Ilasanadu, which was ruled by the Pandya Kings. When they could no longer rule directly, Ettappan was appointed as Zamindar. After 150 years of rule by the descendants of Ettappan, Ilasanadu became Ettayapuram. Even today, some people call it Ilasai. Notable among them is Ilasai Sundaram, who is a Tamil Scholar.
Legacy of Subramanya Bharathy
See also Subramanya Bharathy
Missing image
Bharathi.jpg
Subramanya Bharathi better known as Mahakavi Bharathiar (Maha Kavi meaning Great Poet) in Tamil, deemed as one of the greatest poets of twentieth-century India was born here on December 11, 1882. A prolific writer, philosopher and a great visionary of immense genius and perspicacity, Bharathiar was also one of the most prominent leaders of the Indian independence movement in South India. He studied in a local high school named "Raajah's High School", where he showed exemplary poetic talent even at an early age of 11. At various points in time, he was patronised by Ettappan, the local ruler, even though differences used to crop up between them often.
Ettappan

Ettappan carries a mixed image. The negative impression is due to the fact that he gave away the information regarding Veerapandya Kattabommu's whereabouts to the Britishers, which eventually led to the arrest and hanging of Kattabomman. In fact, Ettappan came to be used as a metaphor for a whistleblower or traitor. On the other hand, he was admired by some of the natives for his welfare activities including arrangements for water supply through huge tanks. He was also a patron of poets and musicians. Notable examples are Bharathy and Muthuswami Dikshitar.
Civic administration
Ettayapuram is a town panchayat that is part of the Thoothukudi district, which was carved out of the erstwhile Tirunelveli district. It comes under the Kovilpatti constituency of Tamil Nadu legislative assembly.
Occupation
People of Ettayapuram are primarily engaged in weaving, making matches and agriculture. Currently all these trades have become less remunerative and the people here are forced to migrate to cities like Chennai to work as labourers in grocery shops.
Weaving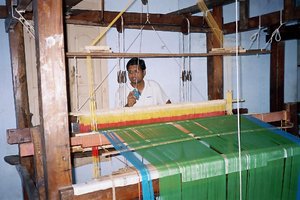 Most of the people living here are traditional weavers who weave cotton yarn using handlooms. These hand looms are not suited for weaving complex patterns as designs on the yarn. There are some recent moves by National Institute of Fashion Technology to train people on Jacquard looms, which is suited for weaving complex patterns in a semi-automated way using punched cards. Some people who are relatively wealthy, use power looms. People are also employed in other allied trades of preparing the thread for weaving, dyeing etc.
Making match boxes
The next major occupation here is making match boxes, which includes manufacturing small boxes that contain matchsticks, preparing match sticks and loading them on to the match boxes. Nowadays, as many people have started using mechanical lighters for starting fire and also due to automated match stick makers, this trade is on the decline.
Agriculture
Missing image
EttayapuramDryField.jpg
The area of land under cultivation has fallen sharply due to failing rains and relatively poor soil fertility. The soil type is black soil, which supports crops like cotton, sun flower etc.
Tourist attractions
Ettayapuram is well connected to Madurai, Thoothukkudi, and Tirunelveli by road. Train services are available from Chennai, Bangalore, Madurai, Thoothukkudi, Tirunelveli and else where in India, upto Kovilpatti, which is 15 km from here.
Places of interest in Ettayapuram
Bharathiar's House
Bharathy's Memorial
Muthuswamy Dikshitar's Memorial
Umarup Pulavar Dargah
Ettappan's Palace
Places of interest near Ettayapuram
External links