Embraer ERJ 145
From Academic Kids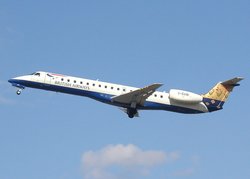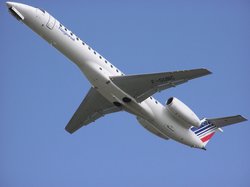 Missing image
Air.france.fguma.arp.750pix.jpg
The Embraer ERJ 145 is a twin-engined regional jet plane with 50 seats. It has a range of about 2500 km and a cost of ownership of about $2,500,000 per year.
History
Launched in 1989 as a stretched and jet-engined version of the EMB 120 Brasilia. However by 1990 Embraer was studying a modified design which had less commonality with the Brasilia because wind-tunnel testing had revealed that it did not meet design objectives, such as a 2500km range. A modified design was produced, but this would have needed an unusually high undercarriage.
In late 1991 the Embraer ERJ 145 design was frozen, now with rear mounted engines. It did keep some features from the Brasilia, such as the three abreast seating (2+1).
The first flight was on August 11th 1995, with the first delivery in December 1996 to Expressjet, the regional division of Continental Airlines. Continental is by far the largest operator, with 221 of the 634 ERJ 145 in service. The second largest operator is American Eagle, with 107 ERJ 145 aircraft.
Models
Civilian Models:
ERJ 145ER - The Standard Version
ERJ 145LR - Long Range
ERJ 145XR - Extra Long Range
The Brazilian military operates the EMB-145 under the designation C-99A. It also operates the R-99 models A and B, which are both derived from the EMB-145. (Note: Embraer retains the "EMB-" prefix when referring to its military models.)
The Lockheed Martin Aerial Common Sensor platform, based on the EMB-145 airframe, will see service with the United States Army and Navy.
Other resources
Related development: Embraer EMB-120 - Embraer ERJ-135 - Embraer ERJ-140 - Embraer ERJ-145 - Embraer Legacy
Comparable aircraft: Bombardier Canadair Regional Jet (CRJ-100 series) - Fairchild-Dornier 328JET - Fairchild-Dornier 528JET
Designation sequence: ERJ-135 - ERJ-140 - ERJ-145 - ERJ-170 - ERJ-175 - ERJ-190 - ERJ-195 -
External links
Embraer ERJ 145 (http://www.airliners.net/info/stats.main?id=198) Technical data concerning the Embraer ERJ 145, and main source for this article
Embraer (http://www.embraer.com) Official Site
Technical data for the Embraer ERJ 145 (http://www.embraer.com/english/content/aeronaves/aviacao_comercial/erj145/default.asp) - on the official Embraer site
See also
de:Embraer ERJ 145