Elliot Richardson
From Academic Kids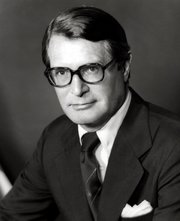 Elliot Lee Richardson (July 20, 1920 - December 31, 1999) was an American lawyer and politician who was a member of the cabinet of President Richard Nixon, but he managed to avoid being tainted by the Watergate Scandal. Under Nixon, Richardson served as Secretary of the Department of Health, Education and Welfare from 1970 to 1973, Secretary of Defense from January to May of 1973, and (after the resignation of John Mitchell) Attorney General from May 24 to October 1973.
In October, 1973, Nixon ordered Richardson to fire the Watergate Special Prosecutor Archibald Cox; Richardson refused this order and resigned. At that point, William Ruckelshaus, the Deputy Attorney General was asked to carry out the order, and he refused and resigned as well. The third in command, Robert Bork, carried out this order. The events are generally referred to as the Saturday Night Massacre.
Richardson had subsequent government service, including Secretary of the Department of Commerce and ambassador to Britain under President Gerald Ford.
Richardson is the only individual to date to serve as head of four Cabinet Departments in the US Government — Health, Education and Welfare; Defense; Justice; and Commerce.
Just prior to the resignation of Vice-President Spiro Agnew, Richardson was portrayed as a cartoon figure with Agnew and Nixon on the cover of TIME magazine dated October 8, 1973. Agnew was quoted as saying: "I am innocent of the charges against me. I will not resign if indicted!"
Richardson was born in Boston, Massachusetts. He obtained his undergraduate degree from Harvard University, served in the U.S. Army from 1941 to 1945, and obtained his law degree from Harvard Law School in 1947. He clerked to Judge Learned Hand and then to Justice Felix Frankfurter of the U.S. Supreme Court.