Egyptian Revival
From Academic Kids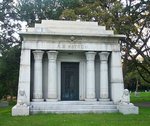 Egyptian Revival is (primarily) an architectural style that references the visual motifs and imagery of Ancient Egypt. It is comparable to Greek Revival.
Although there is a long-standing tradition of Egyptian Revival art and architecture—the 1840s and 1850s saw a particular rebirth of the fad—in the Roaring Twenties the discovery of the treasure of King Tut's tomb by archaeologist Howard Carter in 1922 lead to a particular "Egypt craze". The 1932 movie The Mummy references Carter's discovery and further develops the era's pop fascination with Egyptology. The Egyptian Theater in Los Angeles, USA—now home to the American Cinematheque—is another Egyptian Revival landmark from the era. The Egyptian revival of the 1920s is sometimes considered as part of the Art Deco decorative arts movement. It was present in furniture and other household objects, as well as in architecture.
The Luxor Hotel & Casino in present-day Las Vegas, Nevada, USA, is a modern-day example of Egyptian Revival.
See also