Eduard Bernstein
From Academic Kids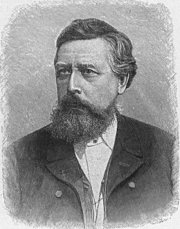 Eduard Bernstein (January 6 1850 - December 18 1932) was a German social democratic theoretician and politician, member of the SPD, and founder of evolutionary socialism or reformism.
Bernstein was born in Berlin on January 6 1850. His political career began in 1872, when he became a member of the Eisenachers (named after the German town Eisenach) and the SDAP (Sozialdemokratische Arbeiterpartei, "Social Democratic Worker's Party"). He prepared the Einigungsparteitag ("unification party congress") in Gotha in 1875 together with August Bebel and Wilhelm Liebknecht.
From 1878 on, Bernstein was the private secretary of social democratic patron Karl Höchberg, working in Zürich; 1888, he was expelled from Switzerland due to pressure from Prussia and moved to London, where he had close contacts to Friedrich Engels.
Between 1880 and 1890, Bernstein published the magazine "Sozialdemokrat" ("Social Democrat"); in 1891, he was one of the authors of the Erfurter Programm, and from 1896 to 1898, he released a series of articles entitled "Probleme des Sozialismus" ("Problems of Socialism") that led to the revisionism debate in the SPD. Rosa Luxemburg's 1900 essay Reform or Revolution? was a polemic against Bernstein's position. He also wrote a paper titled "Die Vorraussetzungen des Sozialismus und die Aufgaben der Sozialdemokratie" ("The Prerequisites for Socialism and the Tasks of Social Democracy") in 1899 that was in sharp contrast to the positions of August Bebel, Karl Kautsky and Wilhelm Liebknecht.
Die Vorraussetzungen was Bernstein's most significant work and was principally concerned with refuting Marx's predictions about the imminent demise of capitalism. In it, Bernstein pointed out simple facts that he took to be evidence that Marx's predictions were not being borne out: he noted that the centralisation of capitalist industry, while significant, was not becoming wholescale and that the ownership of capital was becoming more, and not less, diffuse. He also pointed out some of the flaws in Marx's labour theory of value.
In its totality, Bernsteins analysis formed a devesating critique of Marxism, and this lead to his vilification among many orthodox Marxists. Bernstein remained, however, very much a socialist, albeit an unorthodox one (he was hostile to Trade Unions and Producers Co-operatives); he believed that socialism would be achieved through capitalism, not through capitalisms destruction (as rights were gradually won by workers, their cause for greivance would be diminished, and consequently, so too would the foundation of revolution).
In 1901, he returned to Germany, following the lifting of a ban that had kept him from entering the country, and became a member of the Reichstag from 1902 to 1918, where he voted against the armament tabling in 1913, together with the SPD fraction's left wing. From 1917 to 1919, Bernstein was a member of the USPD.
Bernstein died on December 18 1932 in Berlin; a commemorative plaque is placed in his memory at Bozener Straße 18, Berlin-Schöneberg, where he lived from 1918 to his death.
Quotes
"The Communist Manifesto was correct…but…we see the privileges of the capitalist bourgeoisie yielding…to democratic organizations…In my judgment…success lies in a steady [peaceful] advance…[rather]…than in…a catastrophic crash."
Further reading
Eduard Bernstein's books are readily available in German, the language he wrote in.
Eduard Bernstein, edited by Henry Tudor, The Preconditions of Socialism (The Prerequisites for Socialism and the Tasks of Social Democracy), Cambridge University Press, 1993, hardcover, 215 pages, ISBN 0521391210; trade paperback, 1993, ISBN 0521398088
Eduard Bernstein, Cromwell and Communism: Socialism and Democracy in the Great English Revolution, International Specialized Book Service Inc, 1963, hardcover, ISBN 0714614548; trade paperback, Spokesman Books, 1980, ISBN 0851242863; trade paperback, 287 pages, Coronet Books, 2000, ISBN 0851246303
Eduard Bernstein, Evolutionary Socialism: A Criticism and Affirmation, Random House, 1961, trade paperback, ISBN 0805200118; trade paperback, ISBN 1299161723
Eduard Bernstein, My Years of Exile: Reminiscences of a Socialist, Greenwood Publishing Group, 1986, hardcover, ISBN 0313251142
Eduard Bernstein, Selected Writings of Eduard Bernstein, 1900-1921, Prometheus Books, 1996, hardcover, ISBN 1573923575
Manfred B. Steger, Quest for Evolutionary Socialism: Eduard Bernstein and Social Democracy, Cambridge University Press, 1997, hardcover, 287 pages, ISBN 0521582008
Peter Gay, The dilemma of democratic socialism : Eduard Bernstein's challenge to Marx, Octagon Books, ISBN 0882548379; Collier Books, trade paperback ISBN 0374930171
James W. Hulse, Revolutionists in London: a study of five unorthodox Socialists, Clarendon Press, 1970, ISBN 0198271751
Edited by Henry Tudor and J. M. Tudor, Marxism and Social Democracy: The Revisionist Debate, 1896-1898, Cambridge University Press, 1988, hardcover, 1988, ISBN 0521340497
S. Ramaswamy and Subrata Mukherjee, Eduard Bernstein - His Thoughts and Works: His Life and Works, Deep & Deep Publications, 1998, hardcover, ISBN 8171007686de:Eduard Bernstein
et:Eduard Bernstein es:Eduard Bernstein fr:Eduard Bernstein ja:エドゥアルト・ベルンシュタイン no:Eduard Bernstein nn:Eduard Bernstein pl:Eduard Bernstein sk:Eduard Bernstein