Earth in fiction
From Academic Kids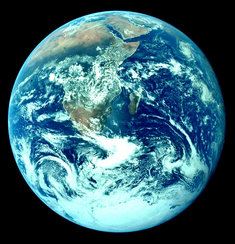 Although nearly all fictional work features the Earth, this page describes its fictional place in the Universe.
It is common, in science fiction set far in the future, for Earth to fall into one of four categories:
Hitchhiker's Guide
In the Hitchhiker's Guide to the Galaxy series by Douglas Adams, the Earth is destroyed to make room for an interstellar bypass. The only surviving Earthman, Arthur Dent, is affronted to find that his planet's entry in the Guide consists only of the single word "Harmless." The Guide researcher reassures him that the next edition will improve upon this. The new entry will read, "Mostly harmless." Dent also learns of the creation of Earth by inhabitants of the planet Magrathea, as a giant supercomputer built to find the meaning of life. It also mentions that humans are descended from a convoy of middlemen (bureaucrats, telephone sanitizers, and the like), tricked into leaving another planet. The Earth was located in sector ZZ9 Plural Z Alpha.
Star Trek
In the Star Trek universe, Earth was a founding member of the United Federation of Planets. Several major federal organizations are found on Earth, such as the Federation Council President's office (in Paris) and Starfleet Headquarters (in San Francisco). Major events on Earth included first contact with the Vulcans (Star Trek: First Contact), a barely averted attack by the Borg (The Best of Both Worlds), and infiltration by the Founders (Homefront). Like most other major Federation worlds, Earth is a near-paradise where poverty and war have been eradicated and environmental damage has been reversed.
In the Star Trek: Enterprise episode The Forge we learn that the name of Earth's actual government is United Earth. According to the Star Trek: The Next Generation episode Attached, United Earth was formed in the year 2150. The episodes "Demons" and "Terra Prime" imply that United Earth is headed by a Prime Minister; in 2155, the prime minister is Nathan Samuels, played by Harry Groener.
Other fiction
The Earth also plays a major part in the Doctor Who universe and others. See also: Earth (Babylon 5).
See also