Dennis Quaid
From Academic Kids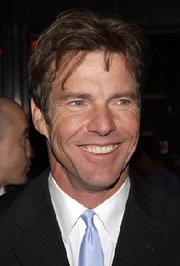 Dennis William Quaid (born April 9, 1954 in Houston, Texas) is an American actor.
Biography
Quaid studied drama at Bellaire High School in Bellaire, Texas and later in college. He dropped out of the University of Houston before graduating and moved to Los Angeles, California to pursue an acting career. Dennis initially had trouble finding work but began to gain notice when he appeared in Breaking Away (1979) and earned good reviews for his role in The Right Stuff (1983).
Aside from acting, Quaid is also a musician, and plays with his band the Sharks. Randy Quaid, Dennis' older brother, is also an actor.
Quaid was married to actress Meg Ryan from 1991 to 2001 (divorced). They have one child together, Jack Henry (born April 24, 1992). In 2004, he married real estate agent Kimberly Buffington. His first marriage, from 1978 to 1983, was to actress P. J. Soles.
Quaid works with the charity "International Hospital for Children in New Orleans." He makes trips to Central America to help build medical clinics and transport sick children back to the United States for treatment they cannot get locally.
Quaid is an avid golfer and lends his name to the annual "Jiffy Lube/Dennis Quaid Charity Classic" in Austin, Texas. The golf tournament attracts numerous celebrities with the proceeds split between three local children's charities.
Selected filmography
External links
de:Dennis Quaid eo:Dennis QUAID ja:デニス・クエイド pt:Dennis Quaid sv:Dennis Quaid