Cory Doctorow
From Academic Kids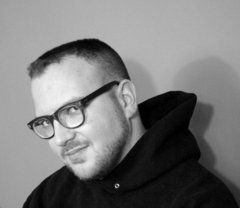 Cory Doctorow (born July 17, 1971) is a blogger, journalist and science fiction author in favor of liberalizing copyright laws, and a proponent of Creative Commons. Some common themes of his work include digital rights management, filesharing, socialist utopias (though he is not himself a socialist) and Disney.
Biography
Born in Toronto, Ontario, Canada to Trotskyist teachers, Doctorow was raised in an activist household, working in the nuclear disarmament movement and as a Greenpeace campaigner as a child. He later served on the board of directors for the Grindstone Island Co-operative on Big Rideau Lake, Ontario, helping to run a conference center devoted to peace and social justice education and activist training. He received his high school diploma from a free school in Toronto called SEED School, and dropped out of four universities without attaining a degree.
As of 2005, Doctorow lives in London where he works as European Affairs Coordinator for the Electronic Frontier Foundation. He is a frequent public speaker on copyright issues, and two of his speeches have been released into the public domain and widely disseminated: Ebooks: Neither E Nor Books (http://craphound.com/ebooksneitherenorbooks.txt) and a 2004 address (http://craphound.com/msftdrm.txt) on Digital Rights Management to Microsoft's Research group.
Fiction
Doctorow's first novel, Down and Out in the Magic Kingdom, is a utopian novel set in a future Walt Disney World where scarcity has been abolished and economic transactions are mediated through a reputation system similar to Slashdot's "Karma", measured in units called Whuffie. It was published in January 2003, and was the first novel released under a Creative Commons license. The license allowed readers to freely circulate the electronic edition, and that electronic edition was released simultaneous with the print edition. Down and Out in the Magic Kingdom was re-licensed under an expanded Creative Commons license in March 2003, to allow non-commercial derivative works such as fan fiction. A semi-sequel short story called Truncat was published on Salon.com in August 2003.
Doctorow's first short story collection, A Place So Foreign and Eight More was published in September 2003 by Four Walls Eight Windows press (now Avalon Books). It collected nine of Doctorow's short stories, and an introduction by Bruce Sterling. Six of these stories were also released electronically under a Creative Commons license. The stories in this volume are Craphound, A Place So Foreign, All Day Sucker, To Market, To Market: The Rebranding of Billy Bailey, Return to Pleasure Island, Shadow of the Mothaship, Home Again, Home Again, The Super Man and the Bugout, and 0wnz0red.
Doctorow's second novel, Eastern Standard Tribe, was released in March 2004 in hardcover and in paperback in spring 2005. It concerns "tribes" of management consultants whose common bond is their sleep schedule. It revolves around a "traffic Napster" for car-to-car file sharing, something that has subsequently been experimented with as an actual technology (http://abcnews.go.com/Technology/News/story?id=150022&page=1).Template:Ref As with Down and Out in the Magic Kingdom, Eastern Standard Tribe was released in a freely distributable electronic edition licensed under Creative Commons terms simultaneous with its print release.
Doctorow's third novel, Someone Comes to Town, Someone Leaves Town, was published in June 2005; Doctorow repeated the procedure of releasing a free electronic edition simultaneous with the hardcover print edition. This time, the book was released in a Creative Commons license that allows the commercial use of its contents in developing countries.Template:Ref The book is a contemporary fantasy novel about urban wireless mesh network guerrillas and a race of people who have impossible, fantastic powers and anatomy (a winged woman, an animated corpse, a trio of walking, talking nesting Russian dolls). It is set in Northern Ontario and in Toronto's Kensington Market area.
Other
Doctorow's nonfiction works include his first book, The Complete Idiot's Guide to Publishing Science Fiction (co-written with Karl Schroeder and published in 2000), and his contributions to Boing Boing, the weblog he co-edits, as well as regular columns in Popular Science (http://www.popsci.com/) and Make (http://make.oreilly.com/) magazines. He is a Contributing Writer to Wired (http://www.wired.com/wired/) magazine, and contributes occasionally to other magazines and newspapers such as the New York Times Sunday Magazine, the Globe and Mail, Asimov's Science Fiction Magazine, and the Boston Globe.
He won the John W. Campbell Award for best new writer in 2000, the Locus Award for Best First Novel for Down and Out in the Magic Kingdom in 2003, and in 2004 he won the Sunburst award for best Canadian Science Fiction Book for his short story collection, A Place So Foreign and Eight More. This collection also contained his short story 0wnz0red (http://www.salon.com/tech/feature/2002/08/28/0wnz0red/), which was a finalist for the 2003 Nebula Award.
In June 1999 he co-founded the free software P2P software company Opencola with John Henson and Grad Conn. The company was sold to the Open Text Corporation in the summer of 2003.
Cory is not closely related to author E.L. Doctorow. Template:RefTemplate:Ref
Bibliography
The Complete Idiot's Guide to Publishing Science Fiction (http://www.kschroeder.com/guide/) (self-help, Alpha Books, 2000)
Essential Blogging (http://www.oreilly.com/catalog/essblogging/) (tech help, O'Reilly and Associates, 2003)
Down and Out in the Magic Kingdom [1] (http://craphound.com/down/) (novel, Tor Books, 2003) released under a Creative Commons License. (Truncat (http://www.salon.com/tech/feature/2003/08/26/truncat/) (short story) -- a quasi-sequel to Down and Out in the Magic Kingdom)
A Place So Foreign and Eight More [2] (http://craphound.com/place/) (short story collection, Four Walls Eight Windows, 2003)
Eastern Standard Tribe [3] (http://craphound.com/est/) (novel, Tor Books 2004) released under a Creative Commons License.
Someone Comes to Town, Someone Leaves Town [4] (http://craphound.com/someone/) (novel, Tor Books, 2005)
/usr/bin/god (working title) (novel; forthcoming, Tor Books)
Themepunks (working title) (novel; forthcoming, Tor Books)
References
External links