Coronet
From Academic Kids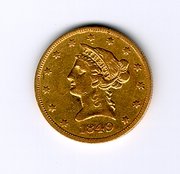 A coronet is a small crown. Traditionally such crowns are worn by nobles, rather than monarchs; in the United Kingdom, a peer wears his or her coronet on special occasions along with coronation robes.
In the peerage of the United Kingdom, the design of a coronet shows the rank of its owner. The coronet of a duke has eight strawberry leaves, that of a marquess has four strawberry leaves and four silver balls (known as pearls, but not actually pearls), that of an earl has eight strawberry leaves and eight "pearls" raised on stalks, that of a viscount has sixteen "pearls", and that of a baron has six "pearls". Since a person entitled to wear a coronet customarily displays it in their coat of arms above the shield and below the helm and crest, this can provide a useful clue as to the owner of a given coat of arms.
Members of the Royal Family may be granted designs of coronet by the Sovereign, which may be personal or reflect the person's relationship to the monarch.
See also
External links
---
The coronet or cronet is also part of the hoof of a horse.