Cinerama Dome
From Academic Kids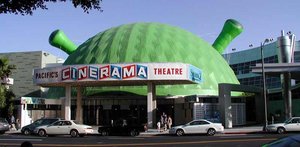 Pacific Theatres' Cinerama Dome at 6360 Sunset Boulevard in Hollywood has been a landmark movie theater since its opening on November 7, 1963.
History
In February 1963, Cinerama Inc. unveiled a radically new design for theaters which would show its movies. They would be based on the geodesic dome developed by R. Buckminster Fuller, would cost half as much as conventional theaters of comparable size, and could be built in half the time. Cinerama's goal was to see at least 600 built worldwide within two years. The following April, Pacific Theatres Inc. announced plans to build the first theater based upon the design, and had begun razing existing buildings at the construction site. Located on Sunset near Vine Street, it would be the first new major motion picture theater in Hollywood in 33 years, and would be completed in time for the scheduled November 2 press premiere of It's a Mad, Mad, Mad, Mad World. The design was adapted by the noted architectural firm of Welton Becket and Associates.
Total construction time is reported to have been 16 weeks. The domed roof comprises 316 precast concrete panels (most hexagonal) in 16 patterns, each weighing some 3200 lb (1,500 kg). The first pentagonal panel was placed on August 29, with the rest to be installed over 4 weeks.
The It's a Mad, Mad, Mad, Mad World premiere marked the dawn of "single lens" Cinerama. Previously, Cinerama was known for its groundbreaking three-projector process. From 1963 until 2002, the Cinerama Dome never showed movies with the three-projector process. (The nearby Warner Cinerama at 6433 Hollywood Boulevard used the three-projector process until December, 1964)
Preservation
With its huge 86 feet (26 m) wide screen, advanced acoustics, and 70mm film capability, the Cinerama dome remained a favorite for film premiers and "event" showings. But by the late 1990s, the motion picture exhibition business began to favor multiplex cinemas, Pacific Theatres proposed a plan to remodel the Dome as a part of a shopping mall/cinema complex. Historical preservationists were outraged, not wishing to see another great theater "twinned," or worse. At the same time, a small contingent of Cinerama enthusiasts had begun resurrecting the three-projector process. They and the preservationists prevailed on Pacific to rethink its plans for the property.
Today
In 2002 after a two-year closure, the Cinerama Dome was reopened as a part of a 14-screen complex called Arclight Cinemas, a division of Pacific Theatres. The dome remains essentially unchanged though there have been improvements, notably in the acoustics. But for the first time ever, the Cinerama Dome began showing movies in the three-projector format. It is one of only three such theaters in the world today.
External links